Are you thinking about studying abroad, but are not sure if it's worth your time? Or are you ready to participate in a study abroad program, but need some extra talking points to convince your parents that you've made a smart decision?
The number of American students who go abroad has more than tripled in the past two decades (304,467 students in the 2013-2014 academic year), and this increase is likely to continue. International education is on the rise, and for good reason: research has shown that students who study abroad have better career prospects and are more socially aware. Read on to discover more study abroad statistics, facts, and figures that reflect the latest trends in international education.
✈ Benefits of studying abroad
For many years, the benefits of studying abroad have been described in words like these: "It will completely change your life!" and "You will come back a new person." But the exact long-term benefits were unknown. Now, though, the positive impact of study abroad experiences can be proven with study abroad statistics.
The Institute for International Education of Students (IES) conducted a survey to explore the long-term impact of study abroad on the personal, professional, and academic lives of students. Here are some interesting findings:
95% of the students who were surveyed admitted that studying abroad served as a catalyst for increased maturity, 96% reported increased self-confidence, and 95% said it had a lasting impact on their worldview.

More than 50% of the respondents are still in contact with U.S. friends they met when studying abroad. and often see them during summer traveling.
One of the goals of study abroad programs is to train future global leaders who will respect other cultures and political and economic systems and care about the world's welfare. The survey reveals that study abroad is succeeding in this mission:
98% of the students stated that study abroad helped them better understand their own cultural values and biases, and 82% said that it helped them develop a more sophisticated way of looking at the world.

94% stated that their study abroad experience continues to influence interactions with people from different cultures.

87% of the students said that study abroad influenced their subsequent educational experiences. Nearly half of all respondents took part in international work or internship (usually in an office) and/or volunteerism since studying abroad.

Three-quarters of the respondents said that they acquired skill sets that influenced their future career paths. Companies are willing to hire students with a recommendation letter from foreign universities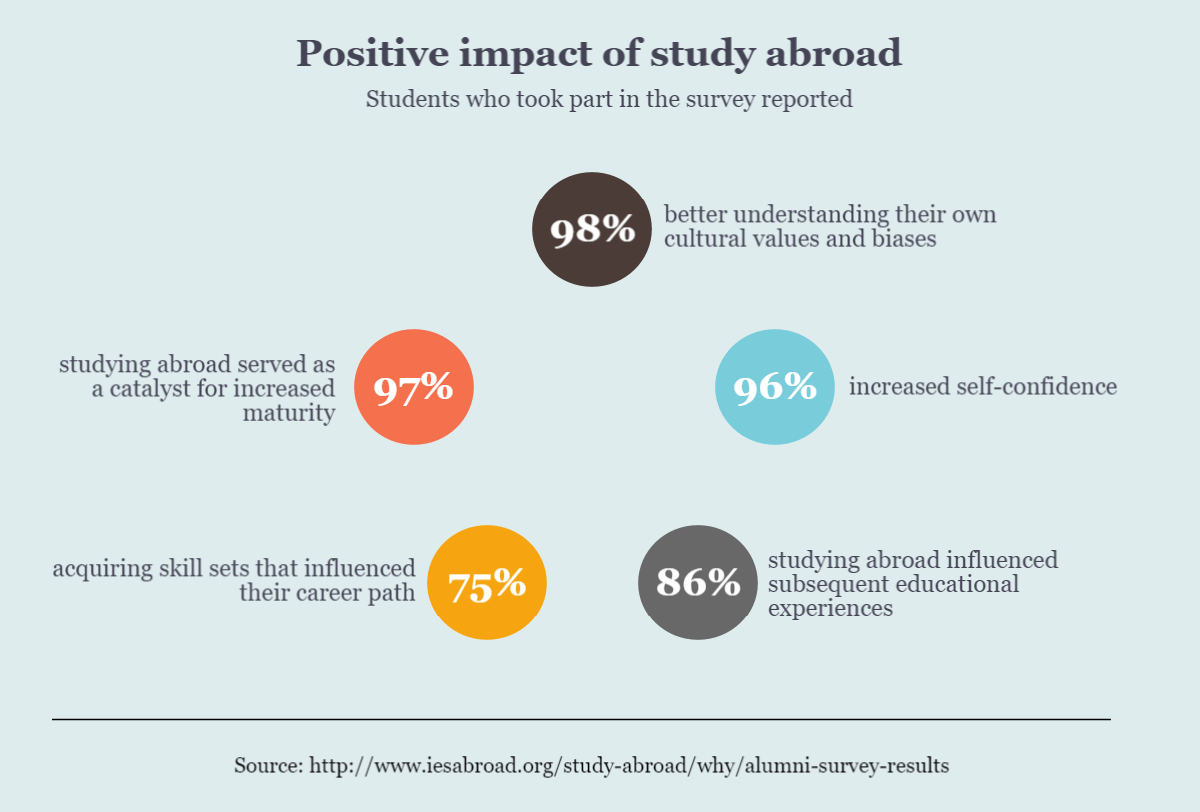 The survey results proved that studying abroad can greatly influence a student's life. The results of the survey show that study abroad had a positive influence on the personal development, academic commitment, and career paths of the students who took part in IES study abroad programs.
Perhaps unsurprisingly, the results show that the longer students study abroad, the more significant the academic, cultural, and personal development benefits are. But the survey also suggests that study abroad programs lasting at least six weeks can also produce good academic, personal, career, and intercultural development outcomes.
The Erasmus Impact Study (2013) analyzed the effects of mobility on the skills and employability of students and on the internationalization of higher education institutions. The results of the study proved the benefits of studying abroad for the career development of mobile students. The study highlighted that mobile students are more likely to get managerial positions in their future careers and are less likely to experience long-term unemployment.
Here are some key findings.
More than 85% of Erasmus students study abroad to enhance their employability abroad.

More than 90% of mobile students reported that they improved their soft skills, including their knowledge of other countries, the ability to interact and work with people from different cultures, adaptability, foreign language proficiency, and communication skills.

The statistics show that studying abroad increases the chances of successful employment. After graduation, 74% of college students reported starting a professional career.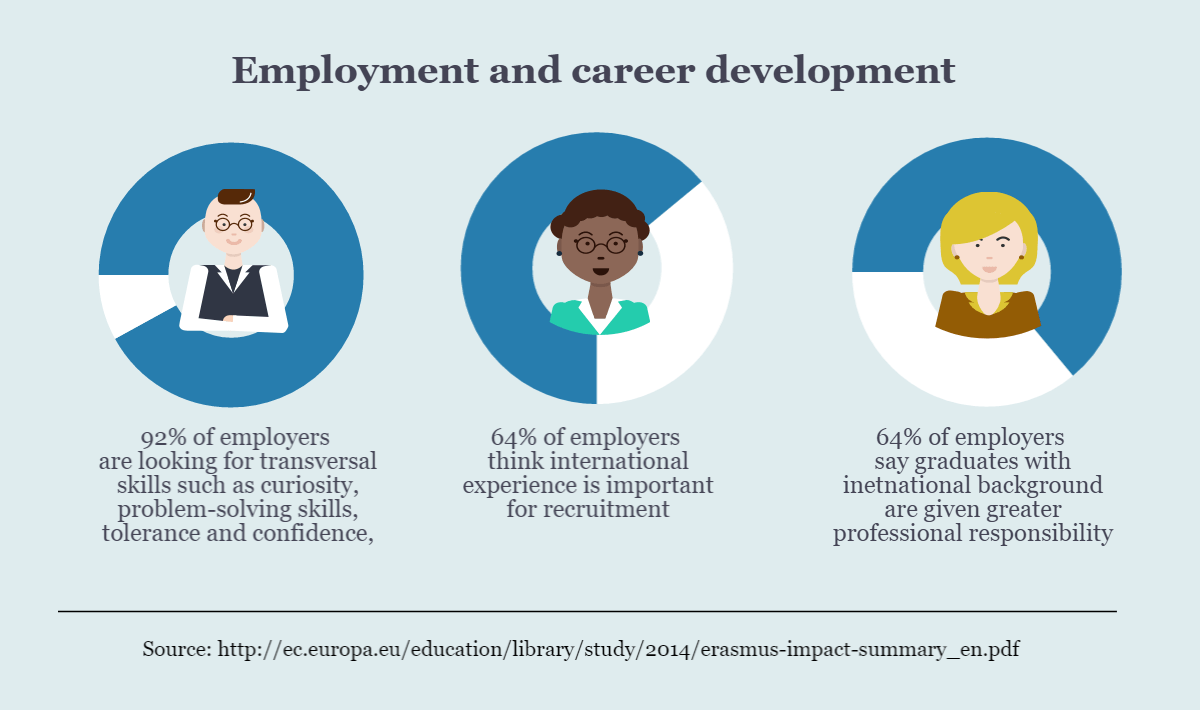 64% of employers think that an international experience is important for recruitment.

Young people who study abroad are half as likely to face long-term unemployment as those who do not study abroad. The unemployment rate of Erasmus students five years after graduation is 23% lower.

More than 1 in 3 Erasmus students who completed a job placement abroad were hired or offered a position by their host company.

Almost 1 in 10 former mobile students who completed a job placement abroad has started a company.

64% of surveyed employers said that graduates with an international background are more often given greater professional responsibility.
🌐 Global trends in international student mobility
The world is becoming increasingly globalized, and international experience is one of the most essential components of higher education in the 21st century. Just take a look at these facts:
The global number of students who study abroad continues to rise with an annual increase of 10%. There were almost 5 million international students in 2014. The Organization for Economic Co-operation and Development (OECD) has projected that, with demographic changes, the international student population is likely to

reach 8 million by 2025

.

Regions that hosted the largest number of mobile students in 2013 were North America and Western Europe (57% of total mobile students), East Asia and the Pacific (19%), and Eastern Europe (10%).

The countries with the most students studying abroad are China and India. According to UNESCO, there were 712,157 Chinese students studying abroad in 2013. Several small countries including Andorra, Anguilla, Bermuda, Liechtenstein, Luxembourg, Montserrat, the Seychelles, and the Turks and Caicos Islands have more students studying abroad than at home.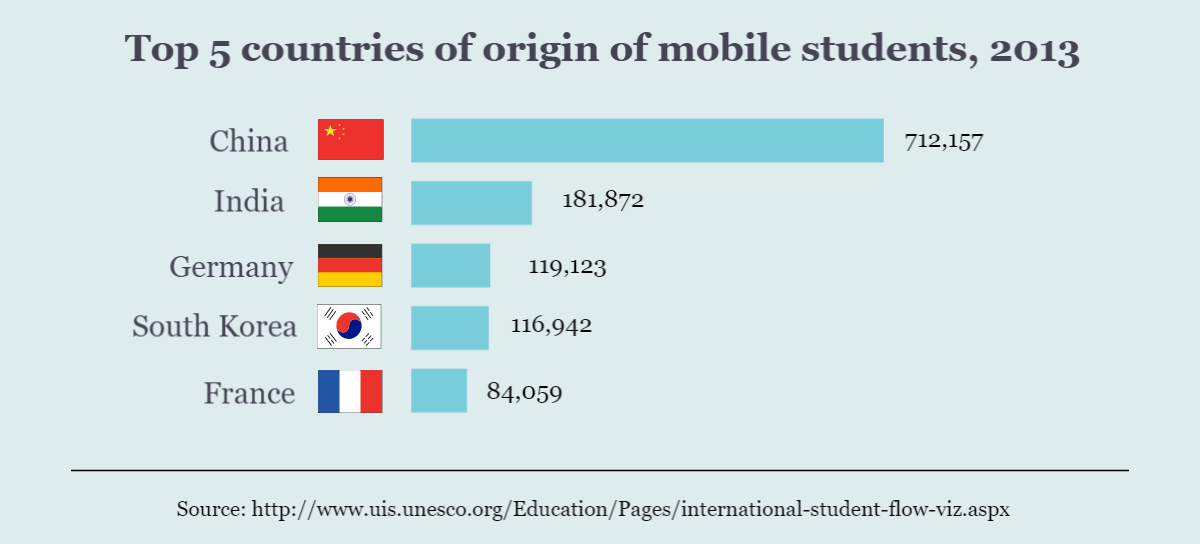 International students who study social sciences, business and law primarily go to English-speaking countries to study (more than 30% of the total number). Australia, the United Kingdom and the United States together host

36% of all foreign students worldwide

.

New players have emerged on the international education market in the past few years, such as Canada (5% of foreign students), Japan (4%), Russia (4%), and Spain (2%). At the same time, the market share of the most popular countries is declining: the share of international students in the United States

decreased from 23% to 17 % between 2000 and 2011

.

Several traditional source countries are working hard to increase their attractiveness to international students.

China hosted

nearly 380,000 foreign students in 2014 but has a target to attract 500,000 students by 2020; Japan is aiming for a target of 300,000 international students in 2020; and Malaysia wants to attract 250,000 foreign students by 2025.
🗽 International students in the USA
A lot of foreign students choose the United States as their study abroad destination. Here are some specific figures about international students in the USA: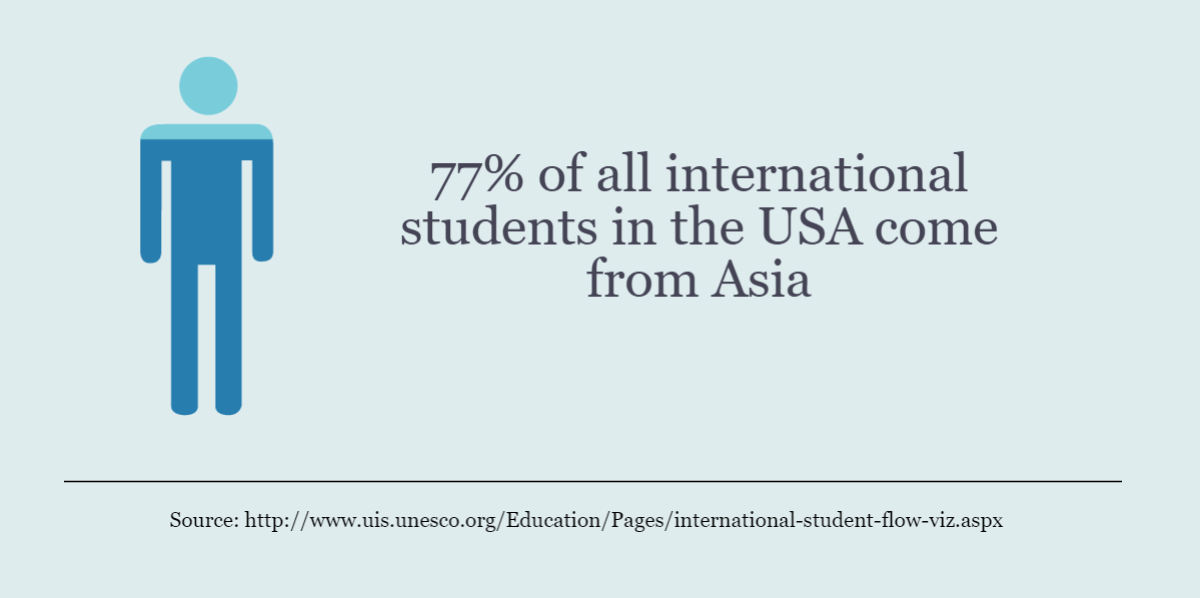 The

top 10 countries

where international students come from include China, India, South Korea, Saudi Arabia, Canada, Vietnam, Japan, Taiwan, Brazil, and Mexico.

Many countries support the idea of studying abroad. For example, Japanese university Sojo aims to

make 50% of their students

participate in study abroad programs.

NAFSA's latest analysis finds that the 974,926 international students studying at U.S. colleges and universities

contributed $30 billion

to the U.S. economy and supported more than 373,000 jobs during the 2014-2015 academic year.

In their study increasing international study abroad rates for business students, Gordon and others emphasized six major barriers—money, relatives, friends, career relevance, knowledge availability, and university participation.

Many international students aren't informed on health insurance in the country they're visiting.

Only 14% of students

confirmed the collaboration between their college/university and health organizations.
🎓 U.S. students studying abroad
The problem is…
American college students are not as globally minded as theirs peer from other countries.
But the situation is improving, and the number of U.S. students going abroad keeps increasing every year, a growth pattern that is likely to continue. If you're willing to find out more, what a better way to learn about the topic than from the students themselves in a form of free college essays examples?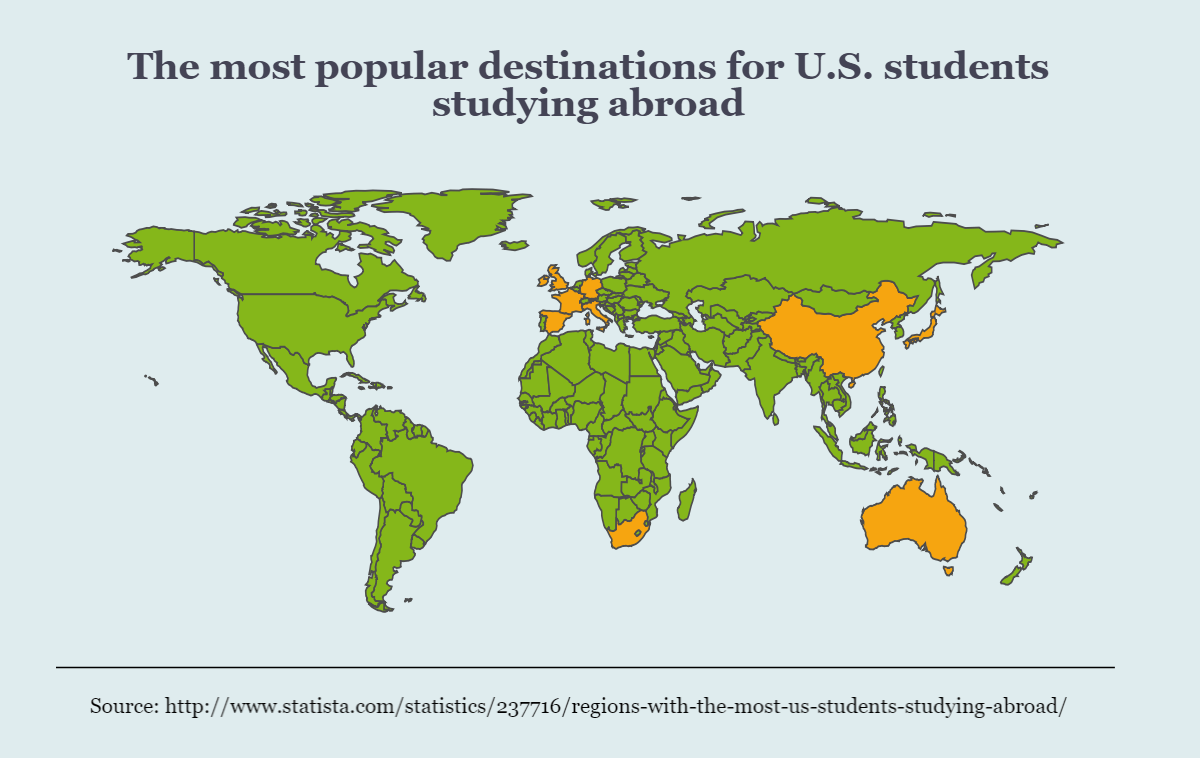 Europe is

the most popular region

for U.S. students studying abroad. There were 162,282 American students studying in Europe in the 2014-2015 academic year. Latin America and the Caribbean hosted 49,312 students from the United States, while Asia hosted 36,290.

Study abroad ranking site Abroad101 notes the following up and coming

countries

Ghana, Cuba, Tanzania, Turkey, Morocco, Switzerland, Russia, Romania, Jordan, and the UAE.

68,798 American students

were studying science, technology, engineering, or mathematics (STEM) in different countries around the world in the 2013-2014 academic year. Another 59,687 American students were studying business, while 57,067 studied foreign languages and international studies.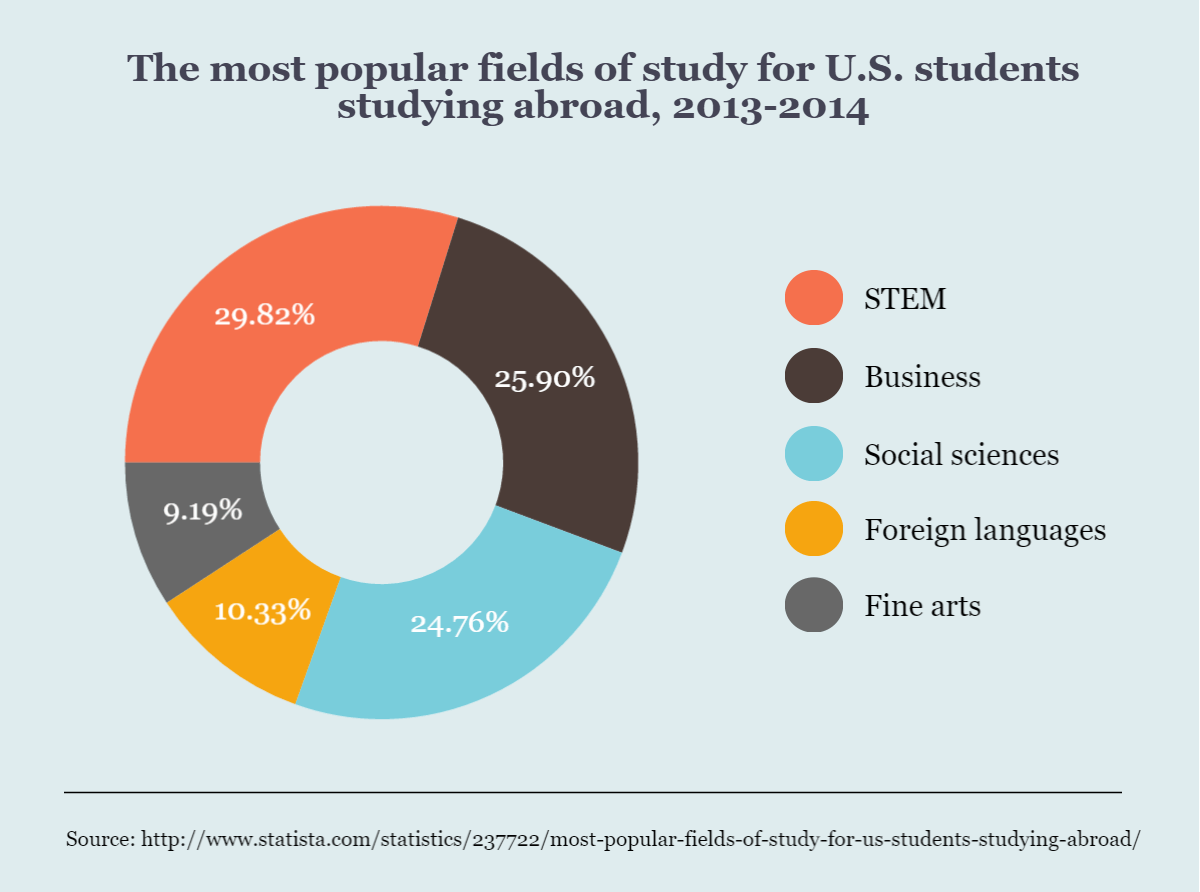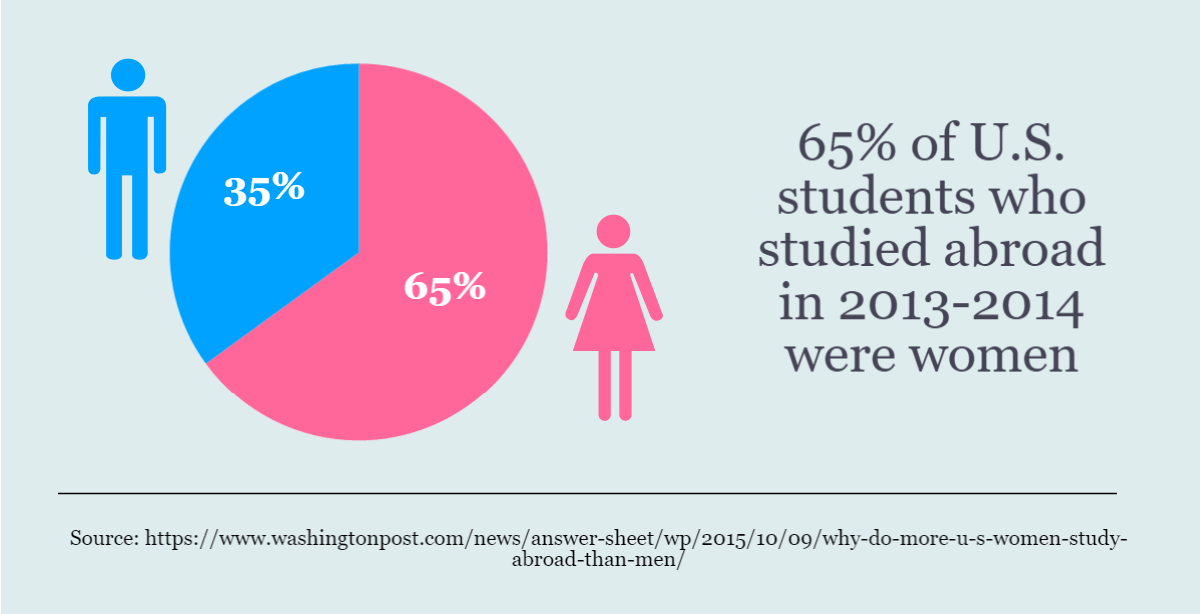 The Institute of International Education has launched a new five-year program called "Generation Study abroad"

to double the number of U.S. students

studying abroad from the present number of 295,000 (10% of all American students) to 600,000 by 2019.

Contrary to popular belief, showing cultural films in class doesn't provide a sharp increase in students' motivation to go abroad. In the study, during Indian movie classes,

only 31% of students

were motivated to study abroad.
Since the time of this article's publication, Mark Shay from Abroad101 shared an interesting observation with us. The SEVIS report mentions the number of foreign students present in the country in any given year, meaning that these numbers include full degree students, as well as exchange students. When it comes to American students, however, the focus usually lies on exchange, rather than full degree, students. There is thus some discrepancy as to how the numbers are reported when it comes to international students in the U.S. and U.S. students abroad.
📚 Why is study abroad essential?
We live in an increasingly globalized world. New technologies have led to the international integration of national markets and businesses. To successfully compete in the global marketplace, multinational and small businesses need employees with cross-cultural competence and knowledge of foreign languages.
More than 100 Chinese companies were included on the

2016 Fortune Global 500 list

, which ranks the world's largest companies based on revenue. In fact, China takes three of the top five places on the list.

Research from the

McKinsey Global Institute

shows that by 2025, 45% of the world's largest companies will probably be based in emerging markets.

International trade creates and supports jobs in the United States. More than one in five American jobs are tied to international trade (38 million jobs in 2013).

According to

research

conducted by Professor James Foreman-Peck for the Department of Business, Innovation, and Skills (BIS), deficient language skills as well as the assumption that "everyone speaks English" are costing the UK economy about 3.5% of its GDP.

A British Chamber of Commerce survey (2013) reveals that 62% of non-exporting British companies regarded languages as a barrier to looking for international opportunities, and 70% of exporters had no foreign-language ability in countries where they operate.

70% of UK businesses value foreign language skills in their employees, and 38% of businesses consider language skills particularly helpful in building relationships with clients, customers, and suppliers.

Language barriers increase the difficulty and cost of doing business on the international market. According to a report by the University of Wales,

25% of export companies

in England and Wales had lost businesses because of language and cultural deficiencies.
It is clear that employers are seeking candidates with study abroad experiences on their resumes. Students who want to work in our deeply interconnected world must study abroad.
There is no doubt that studying abroad will change your life. It offers you a chance to experience other cultures, make international friends, learn new languages, improve your job prospects, contribute to your personal development…and maybe even find the partner of your dreams!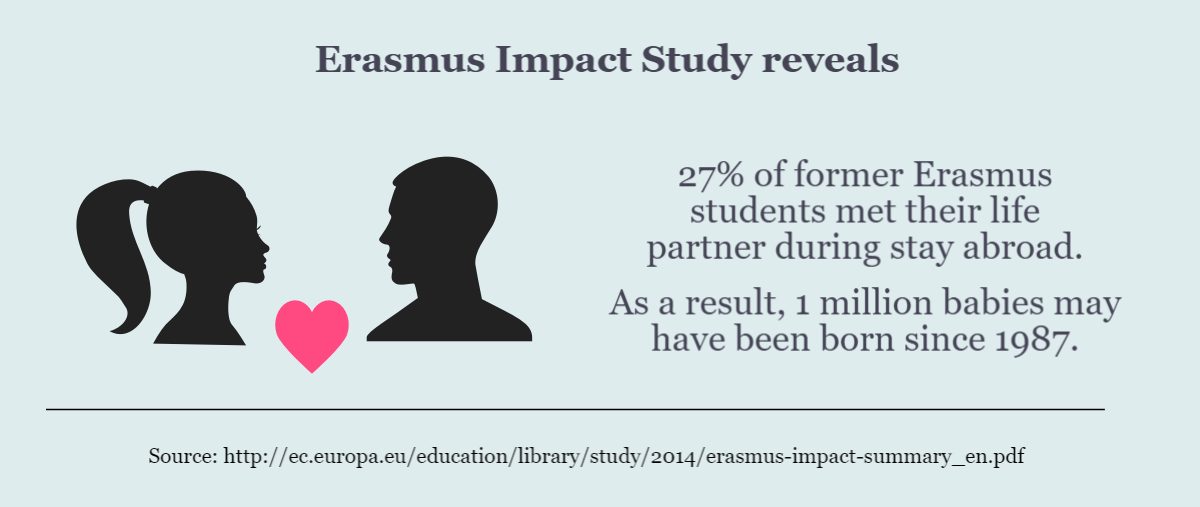 We hope that these study abroad statistics that reflect modern realities have helped you get a clearer picture of this unique, life-changing experience and understand the benefits of studying abroad. Of course, study abroad is a serious undertaking. It will challenge you on a personal level. It will have an impact on your college career. And it costs money. But it is also an investment in your future, both academically and professionally, because the study abroad experience is now more valuable than ever.
Need a guide on how to become an international student? Check out IvyPanda's guides and infographics.
For example, you may want to know what mistakes to avoid in a foreign country (especially when you're an international student). We also have a detailed infographic on where to study if you're a lesbian, vegetarian, or volunteer.