How long does it take to prepare for IELTS? Trick question. The answer depends on your level of English and persistence, as well as your goals.
An essential feature of IELTS is its scoring system. It is not necessary to get the maximum band to meet the requirements of a particular university. Therefore, even if you have little time to prepare for the exam, you can still acquire the score you want.
To prepare for IELTS in 10 days, you should do the following:
set realistic expectations,

develop a study plan,

and follow it through.
Our guide aims to help with all of these points. In this article, prepared by our experts, you will find how to properly rest and tips for concentration while studying.
📋 IELTS Preparation: First Steps
Any preparation starts with choosing suitable teaching materials and setting your own goals. In this section, we will explain the first steps you need to take.
But first, let's figure out:
How long does it take to prepare for IELTS?
Preparing for IELTS in 10 days is possible but depends on initial proficiency in English, the desired band, and your learning abilities. If you're fluent enough and know the basic grammar rules, passing IELTS is more than manageable for you. You'll have to get proper study materials, learn some complex words, and understand the exam structure to achieve your goal.
As you should be aware, there are two types of IELTS: academic and general training.
IELTS Academic is needed if you want to pursue a graduate or postgraduate program. It requires you to read more complex texts in the Reading part and describe diagrams in the Writing part.

IELTS General Training is great for people who are not planning to get a graduate degree but to work or simply move to another country.
Accordingly, if you have only ten days to prepare, it makes sense to focus on IELTS General. It is sufficient for many purposes and easier to prepare for.

You should clearly understand the difference between the score you want to get and the score you'll most likely get. Some time for preparation will ensure the possibility of getting the highest band possible. However, you can't bite off more than you can chew.
Naturally, in addition to the mental attitude, you need to acquire a couple of things before preparing for IELTS. In this list, we have indicated all the main items that you will need for the next ten days:
A computer, a CD drive, and a stable internet connection.

A timer (your cellphone will work great).

A friend to interview you and a voice recorder for your speaking section.
📅 Preparing for IELTS in 10 Days: Study Plan
If you want to understand how to prepare for IELTS in 10 days, you need to remember how you prepare for exams in general. It all starts with your habits and characteristics of memorizing information and ends with your diligence.
Below, we offer you a study plan. According to its guidance, you will have to devote a lot of time and energy every day to cram all the data others learn for months. It's not easy and relies heavily on your self-organization. However, your efforts will be rewarded when you receive your exam results.
✔️ IELTS Preparation Day 1: Format
For the starters, get familiar with the format of the exam. Knowing what to expect from the test is a crucial step. In this section, we'll explore the structure of the exam in more detail.
If it's the first time you attempt to pass IELTS, you better learn the structure. Knowing how much time you have for each section and how each part should be handled is needed to pass the exam successfully.
For you not to search anywhere, here is the essential information about the IELTS format:
| | |
| --- | --- |
| IELTS Sections | Information about Them |
| IELTS Listening | This section is designed to test your listening skills. It checks: your understanding of main ideas and specific facts,your ability to recognize the speaker's purpose and opinions,whether you can monitor the development of the argument. The section lasts for about 30 minutes, with additional 10 minutes to transfer the answers. |
| IELTS Reading | You will be required to read three different passages that will test the following: your general understanding of the text and its ideas,how you recognize the purpose, opinions, and the development of the argument. The context of the passages differs with the type of the exam, academic or general training. You'll get 60 minutes to complete the section, including the time to transfer the answers. |
| IELTS Writing | Your writing skills are up for a test in this section. Your score will rely on these features: the organization of ideas,correct use of vocabulary and grammar,appropriateness of your responses. Writing sections are different for different types of tests. However, the timing is the same: you get 60 minutes. |
| IELTS Speaking | A wide range of skills is tested during this section. The interviewer would like to see the following: how well you communicate ideas on different topics,your capability to talk during the specific timeframe,your ability to organize and express your thoughts coherently. The timing might differ, but it'll be 11 to 14 minutes approximately. |
Once you know the general structure, you can start gathering your study materials. There are plenty of free IELTS preparation materials online. Books, mock tests, videos – you can find that on the Internet.
✔️ IELTS Preparation Day 2: Tutor or Not
Recognize whether you need a tutor. Everyone has a unique way of learning and retaining new information. Instead of spending these ten days struggling to do it yourself, you might want to consider getting some outside help.
Ask yourself two questions to see whether you need professional help or not:
Can I get the band I need?
If you never attempted to pass the IELTS exam but confident you'll get a high band, you are likely a native speaker. Or, you just don't recognize the complicated structure of the exam. You can get the band you need, but only if you invest the time, energy, and resources required. Consider whether it's possible without a qualified tutor.
2. Can I afford a tutor?
Indeed, the answer will be different for every student. Most people believe that not hiring a person to help will save them some money. Yet, it might not. If you're not prepared well enough to pass the exam for the necessary band, you'll have to retake it. That means spending extra money and time. Sometimes, it's worth spending a bit, in the beginning, not to spend more at the end.
The choice is up to you anyway!
If you are confident that you don't need professional help, spend this day collecting IELTS books, if you haven't already, and studying them. Review the exam format and take a closer look at yourself – what are your strengths and weaknesses?
✔️ IELTS Preparation Day 3: Writing
Start with the writing tasks. Sometimes even native speakers have trouble when it comes to writing. However, you can learn and practice.
Let's take a closer look at how to get started:
Learn the IELTS format and the structure of every essay type you might encounter.

Take a look at several sample questions and answers.

Start learning new vocabulary to help with your writing.

Practice writing about anything in English.

Find sample IELTS questions online and try responding to them. Don't forget to follow a particular essay structure.

Do self-assessment and peer review, if possible. That way, you'll get more expanded feedback on the quality of your writing.

Check

sample databases

for papers and works that might be useful in the preparation for the test.

✔️ IELTS Preparation Day 4: Listening
Shift your focus to listening. Becoming a great listener does not come easily: it takes a lot of time, concentration, and practice. Let's figure out how to become a listener in this section.
Try the following exercises on your day 4:
Start with gathering information about the format and timing of the section.

Watch TED talks and listen to podcasts and songs. Pay attention to the words, intonation, pauses, and repetitions used.

Before the audio begins, quickly skim through the questions.

Practice writing answers down while the audio continues to play.

Remember that no one repeats the audio during the listening section. If you miss the answer to the question, don't bother coming back.

Get used to various accents. Listen to podcasts with natives from different English-speaking countries.
✔️ IELTS Preparation Day 5: Reading
Prepare for the reading section of the exam. You may consider that part more manageable than the previous ones. But the thing is that you have to read long passages and respond within the time limit. That might be a bit hard without preparation.
Now, let's get down to the details:
Learn the structure of the section, types of tasks, and timing.

Find some materials in English and start reading them. Pay attention to new words and phrases, as well as the central ideas.

Search for IELTS practice reading sections.

Examine instructions well not to miss the details of the task.

Don't forget about timing. Divide your time into parts to complete the task.

Compare your responses to correct answers and analyze them.

✔️ IELTS Preparation Day 6: Speaking
Now it's time to tackle the speaking part. For numerous students, this section is the trickiest one. Due to anxiety and overall stress, talking to an examinator can become a nearly impossible challenge.
However, you can't let stress get the best of you. Therefore, it is necessary to learn the format, which is what we suggest you do:
Find the speaking assessment criteria and take a look at some of the sample questions.

Create an audio journal. Record yourself speak every day since day six and evaluate the speech. Pay attention not only to what you say but pronunciation and sentence structure, as well.

Control your body movements. Look in the mirror and practice a confident style of speaking.

Work on your vocabulary to use during the speaking section.

Record yourself more and assess the speech. Seek someone's help to evaluate your answers, pronunciation, and sentence structure.
✔️ IELTS Preparation Day 7: Analysis
To finish the week of studying on a high note, you should analyze your progress. Evaluate how far you have progressed in learning the material and format of the exam.
How can you do the analysis?
Take practice tests or skim through the ones you've already taken. Identify your stronger and weaker sections.

Analyze the mistakes you've made. Think about what you should do differently next time.

Check some credible resources. Revise information about the format that you might've forgotten.
After analyzing your mistakes, you can spend that day perfecting the specific part of the exam that you consider the trickiest. If the odds are roughly equal for every section, spread the time evenly for each task.
✔️ IELTS Preparation Day 8: Focus
Concentrate on developing the skills you lack. After assessing your capabilities, you know what you are missing to pass the IELTS exam. You need to devote the day solely to working on these general skills.

There are three significant aspects that you should work on for the IELTS test:
Grammar.

It is assessed in two sections of the IELTS: writing & speaking. The examiner will evaluate your ability to use correct and appropriate grammar. Thus, to get a higher band, you'll need to show the ability to use complex sentences. To practice and improve your skills, here's an

online grammar test

for you to check out.

Pronunciation. For a high band, you need to perfect the way to talk. First of all, you must master the individual sounds to be easily understood by the examiner. Also, you must pay attention to word and sentence stress. Some syllables and words are emphasized more than others. Indicate your emotions by using intonation. Lastly, don't forget about using linking words.

Vocabulary

. You have to

learn new words for IELTS

but do it wisely. Vocabulary will differ for IELTS Academic and General Training. If you know which one you'll be taking, focus more on the literature related to that. Plus, you can get a notebook and write down every unknown word you come across while reading or listening.
✔️ IELTS Preparation Day 9: Practice
Practice makes perfect, so don't shy away from the most apparent tip you'll ever get. If you want to pass IELTS, you need to practice each task multiple times, which we will discuss in this section.
During this day, try to focus on taking as many full tests as possible. Identify the sections you've improved. It will help you to build confidence before taking the actual exam. Some skills only practice can improve.
Keep in mind:
Timing during IELTS is quite strict. Practicing full tests will help you learn how to manage your time effectively.

Multitasking is key to passing the listening section well. You have to listen and mark correct answers at the same time.

Regular practice will help you create your strategy.
✔️ IELTS Preparation Day 10: Reflect
Revise and recollect. You should devote the last day of preparation to reviewing and evaluating your knowledge.
Now that ten days have passed look back and evaluate your knowledge. Make sure you are aware of what you know and that you have a strategy. That way, you'll be more confident to walk into the exam hall.
Besides, you have to get ready for the day of the exam. Here are a few things you should prepare:
Documents. Bring the ID that you provided for the application form.

Water and snacks. There's no need to bring something heavy. A light snack will do great to keep you focused on the test.

Itinerary. Check the way to the examination center. Make sure you know how you are getting to your destination.

Clothes. Choose to wear something comfortable. Keep in mind that your photo will be taken before the test, so don't show up in pajamas.
🔎 How to Focus on IELTS for 10 Days Straight
Speaking of careful preparation, you should replace the question "How long does it take to prepare for IELTS?" with "How long can I focus on studying for the exam?"
Concentrating, in general, can be tricky, but the stakes are exceptionally high when you only have ten days to prepare. That is why here we will analyze how to maintain attention for the period.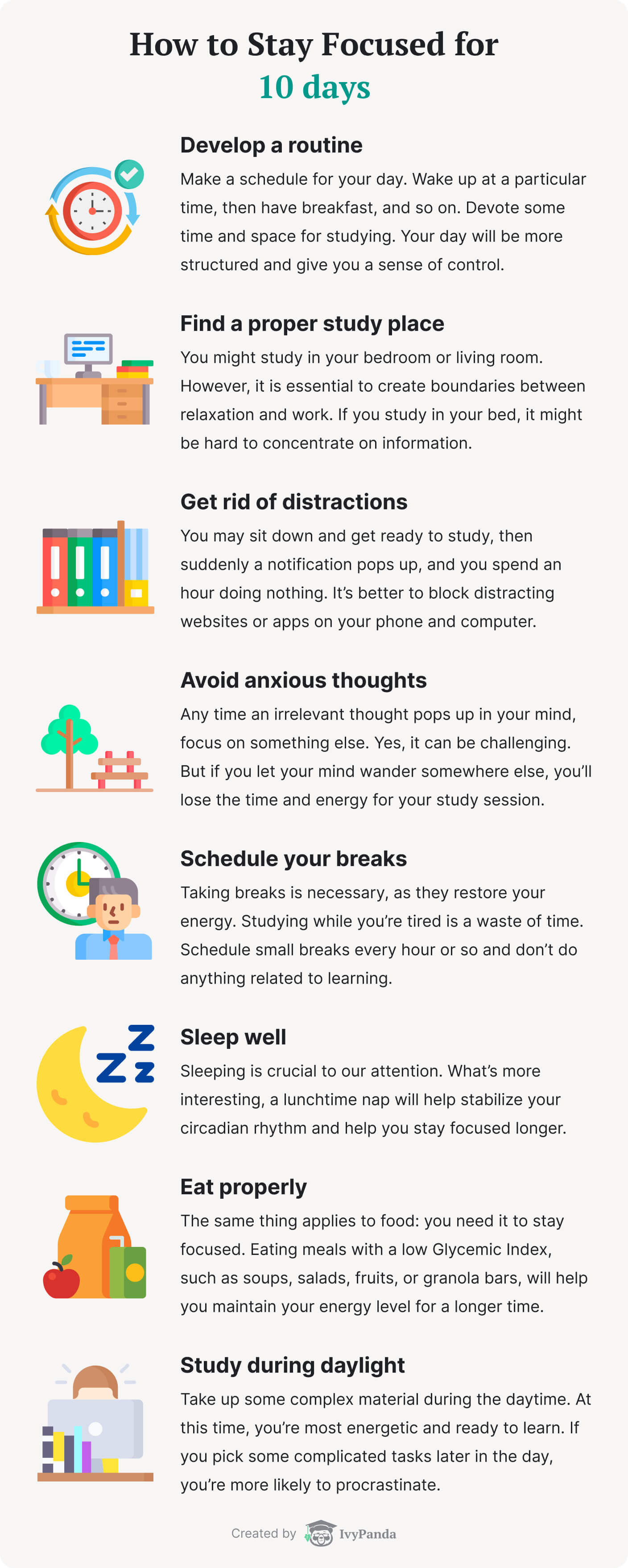 🛋️ Tips on Beneficial Resting
Since you need to fit a considerable amount of information in just ten days, we recommend you immerse yourself in the English-speaking environment as much as possible. This means that even in your free time from school, you should spend it with benefit.
Here is how you can do so:
Listen to some English songs. Turn on

BBC radio

and try to get used to the accent.

Hang out and talk with English-speaking people.

Read news in English.
That's all! Thanks for reading the article. Now you know how to prepare for IELTS in 10 days. Share the article with your friends if you think they will find it helpful.
🔗 References