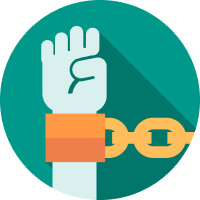 Free Freedom Philosophy Essay Examples & Topics
The phenomena of freedom and free will have been discussed in philosophy for centuries. These concepts are not easily defined:
Freedom can mean the capacity to do something or be someone without restraints or limitations. It can also refer to independence from the influence of others.
Meanwhile, free will is defined as the ability to make an independent choice.
The subject of freedom has a long-standing history with multitudes of differing viewpoints. If you are writing a freedom philosophy essay, you have a long road ahead of you. Our experts have described some thinkers so that you know where to start your research. See their conflicting takes on freedom and responsibility explored on the page. Also, we have come up with exciting topics for your essay or research paper.
Besides, you will find essay samples written by other students. Reading them can get you inspired or help you develop your own paper.
6 Influential Freedom Philosophers and Thinkers
Throughout humankind's history, many had something to say about the concept of freedom. Philosophers have debated and continue to argue with one another over this complicated subject. Over here, we have looked at some of the points of view held by the most prominent thinkers. They will help you begin thinking about "what is freedom in philosophy" essays.
In his philosophical theories, René Descartes insisted that freedom comes from the human mind. He divided the world into the material and the ideal world of thoughts. Descartes believed that our ideas were completely free and could influence the material world.
Immanuel Kant argued that a person could not be genuinely free while their wants and wishes govern them. He came up with the concept of autonomy, believing that the ideal way to live is through self-control. Once a human person stops being a slave to their desire, only then will they achieve true freedom.
Drawing inspiration from Plato, Arthur Schopenhauer wrote essays on the questions of ethics and human freedom. He claimed that there was absolutely no such thing as free will and that people could not possess it. Schopenhauer insisted that a person could only react in response to external stimuli.
Rudolph Steiner discussed what human freedom means in his work titled The Philosophy of Freedom. He argued that freedom lies in the relationship between a person's ideals and the limitations of external reality. Understanding the gap between the two allows one's actions to be inspired by moral imagination.
Jean-Paul Sartre is famous for coming up with some of the most influential theories on existentialism. He didn't believe that freedom and responsibility are separable. According to him, we give meaning to our lives through our decisions. Sartre debated that there was no God to provide us with a purpose. Therefore, freedom was a burden on humanity.
Most famous for his concepts of positive and negative freedom, Isaiah Berlin talked about opposing philosophies of liberty. Positive liberty referred to the idea of self-government, similar to Kant's autonomy. In contrast, negative liberty explores the notion of freedom as being unhindered by other forces.
16 Fascinating Freedom in Philosophy Essay Topics
You can write an incredible number of works about freedom in philosophy. So how does one choose the best idea? First of all, you can try using our title generator, which will automatically create it for you. Second, you can peruse our list of topics, specially prepared for freedom in philosophy essays.
Examining Berlin's two concepts of freedom in relation to political liberty.
What is the concept of freedom according to Christian theology?
Dissecting Descartes' Cogito ergo sum regarding freedom of thought and free will.
Is Kant's idea of self-freedom tangibly achievable?
The differences and similarities between Hegel's and Steiner's philosophies of freedom.
Does the existence of charities undermine the social and economic freedom of individuals?
Social media filtering and the constraints to social freedom imposed by censorship.
The relationships between the concepts of freedom and responsibility.
Can the concept of free will and faith co-exist?
Examining the right to free speech from the point of view of the freedom philosophy.
Is there any true importance of freedom for human beings, according to Sartre?
The main differences in points of contention between 19th and 20th-century freedom philosophers.
Analyzing the fundamental principles of utilitarian ethics concerning freedom.
Exploring Theodore Adorno's moral philosophy and the un-freedom of the individual.
A reflection on Schopenhauer's philosophy and the moral responsibility for one's actions.
How does the idea of determinism contradict the concept of free will?
In this article, we have only touched upon the topic of freedom. There are still hundreds of philosophers and hundreds of ideas left. To continue exploring these ideas, consider reading through our human freedom philosophy essay samples. We're sure they will help you deepen your understanding of this topic!
Thank you for reading!