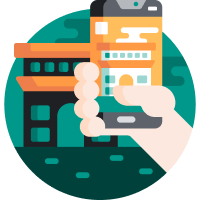 Free Tourist Attraction Essay Examples & Topics
What attracts tourists to a town, city, or some other place? Different cultures, cuisine, events, landscape, and shopping contribute to the general experience of traveling. But are these the primary things that make people spend thousands of dollars and their two- or three-week vacation that happens only once a year?
Why are some places more attractive for tourists than others? It's generally believed that cultural attractions and gastronomy are the most decisive factors. Nothing has changed since Ancient Rome: people want bread and circuses.
All these cultural, social, economic, and psychological aspects can be covered in a tourist attraction essay. Indeed, the topic is rather extensive. You can write about any place in the world if the assignment does not specify otherwise. But how should you approach the task?
In this article, our experts have provided insightful information on how to describe a tourist attraction. Here you will find a brief guide followed by free essay examples. Thus, you'll see how other people have managed the same assignment.
5 Tips on Writing Tourist Attraction Essays
Any standard essay is based on the conventional formula. It consists of 5 paragraphs and a gradual explanation of the thesis statement. Essays about tourism attractions are not an exception. We will guide you on how to fill in the formula depending on your topic.
Let us start with the easy part. What makes up a 5-paragraph essay?
An engaging introduction explains why the topic you chose is worth discussion. Here you can describe the prehistory of the debatable issue (for an argumentative essay) or the history of the tourist places (for a descriptive one).
Finish the introduction with one well-thought thesis statement. This sentence should explain what the purpose of your writing is. For example, "This essay aims to explore the psychological causes of tourism of middle-class people over 60."
Then comes the main body with its three paragraphs. Each starts with a topic sentence followed by an argument and explanation. If you write an argumentative essay, dedicate the last paragraph to a different opinion and disprove it.
Roughly speaking, a conclusion is a summary of your essay. List your main arguments and restate the thesis with some development.
The title is not the same as the topic because the latter is an assignment directing your thoughts. It's "an advertisement" of your text, so make it brief and interesting.
And now let us discuss what you shall write in an essay about tourist attractions on the most popular types of topics.
Sightseeing Essay
Sightseeing means traveling with a purpose. You do not just wander around the city or walk the hills and woods. You have definite spots on the map or even an itinerary that you plan to cover.
A sightseeing essay is about travel and tourism. For this reason, we recommend you analyze several places of interest in the same city or even country. You could describe why these sites are important as historical and cultural heritage. List the reasons why you recommend them and make up a suggested order of visiting these places.
In your sightseeing essay, you can write about the places listed below:
Paris — The city of love and lights. It survived both world wars, preserving its historic buildings and downtown of France. The most beautiful tourist attractions are closely located, saving you much time. After nightfall, be sure to look at the Eiffel Tower, standing near the Louvre Pyramid. The lights are amazing.
Dubai — The city of the future. This place is like a time machine. Right from the airport, you are surrounded by futuristic skyscrapers. But the best sights are historical. Walk along Al Fahidi Quarter that is precisely how ancient Dubai looked. Visit the Heritage and Diving Village to explore its unique culture.
New York —The city that never sleeps. It is a tourist destination for night owls. Its subway never closes, and you can enjoy the city lights till dawn. Its landmarks comprise the Statue of Liberty, Carnegie Hall, Broadway, and the Empire State Building.
New Delhi — The city of modernity and tradition. Its history is as ancient as Hinduism and its sacred Yamuna River, drawing a natural line between the west of New Delhi and the east of Old Delhi. Akshardham, the Red Fort, and Gurudwara Bangla Sahib are just several pearls in its long necklace of attractions.
Rome — The eternal city. The author of the nickname was Tibullus, a Roman poet. The ancient civilization believed that no matter what, it would stand. And so it happened. The Pantheon, Roman Forum, and the Colosseum were built to last.
Essays about tourist spots are similar to sightseeing ones, but they concern only one place of interest. You are supposed to describe it and explain why it is worth visiting. Introduce a tourist spot. In the thesis statement, clearly specify whether one should or should not come to see it. All the remaining paragraphs should support your opinion.
How to Attract Tourists Essay
It is a frequent task as it trains your critical thinking. This essay explains how to bring tourists to a country or city for the benefit of both.
You can discuss the following strategies:
Mark your key attractions on maps and streets. Make them visible and easily found, using way markers and signs. It makes your place tourist-friendly.
Learn who your target visitors are. If they are young families, build a playground for children so that the parents can have a rest. If they are the elderly, ban loud music at late hours.
Make your place a "brand." Find out the spirit or Genius Loci of your sight. What makes it different from any other place in the world?
Tell a story. If your site is a new building with no historical background, invent a fairy tale. We all come from childhood and enjoy them.
Look for partners. Cross-advertising is always a good idea. Make friends with the neighboring sights and work for a common purpose.
Use web-marketing strategies for promotion. What is the first thing people do when they look for information? They Google it. Make an informative website and regularly posit on social media.
Create an immersive experience. If it is a historical place, let the visitors try how it felt like living there many years ago. Use videos and virtual reality to reconstruct the ancient world.
We hope this article inspired you enough to make writing a pleasurable experience. Below, there are free examples of tourist attraction essays that you can consult right now.