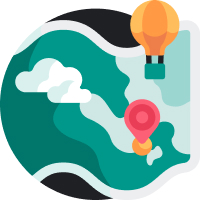 Free Tourism Essay Examples & Topics
Travelling adds colors and new experiences to our life. It's an act of learning something new, breaking the boundaries, and expanding a mindset. Indeed, the importance of tourism is hard to overestimate. It is the easiest way to learn about a country, its culture, and the people. Tourism is also vital for the economy because a lot of businesses depend on people visiting.
Besides mass tourism, other forms exist. There are medical tourism, niche tourism, sustainable tourism, winter tourism, volunteer tourism, etc. You need to carefully choose what to write about if you need to compose a paper on a related topic.
To help you write an excellent academic paper on tourism, we've combined a list of suggestions. These tips will be beneficial for anyone who tries to write an academic essay about tourism.
In this article prepared by our writers, you will find tricks and recommendations on how to select and mainly what to write in this paper. Let's start!
As we already mentioned, there are many types of tourism for your essay to explore. You can subdivide it into two distinct groups: domestic and international tourism.
The kind when people travel within their own country is called domestic tourism. It is easier because it does not require visas, passports, and other formalities.
When a person visits another country for tourism, then it is international tourism. Usually, it is much more complicated than domestic tourism. It involves having a valid passport, foreign currency, a booked hotel, and a visa in some cases.
As you can suspect, there is an abundance of topics available for your writing. Yet, you're likely to encounter one of the following tourism essay types:
A descriptive essay tries to deliver a profound message. The author should communicate some problems by describing them with graphic elements of speech. The goal is to invoke feelings and make a reader think about the issues related to the paper.
An expository essay aims to inform a reader about a particular issue. Rather than appealing to emotions and feelings, it relies on facts, stats, and data to prove the point. To invoke a personal response, you should incorporate examples. However, persuasion happens because of the facts and not the sentiments.
After carefully choosing your topic, think about the structure of your paper. Tourism essays are not going to be any different in form than other 5-paragraph essays. So, as you can imagine, the travel and tourism essay will consist of four parts:
Introduction. It has a fundamental purpose because it states what the essay will be about. It should present the topic in an exciting and captivating way to go on with reading.
Thesis statement. This should be the very last part of the introduction. In one sentence, you should deliver the paper's message, stating your position. Don't include any arguments: you will have the central body part for that.
Main body. This part can consist of more than three paragraphs, connected by linking words. Here you will present your point of view and the arguments. You do not need to travel to a specific country to write about it. To compose a good tourism essay, you need to rely on data and facts. You can also demonstrate other forms of visual aid. For instance, if you compare two cities, tell about their history or architecture.
Conclusion. This paragraph is the last part of your essay, and it summarizes all arguments together. It should come back to the thesis statement and be supported by your findings from the main body. You can write your personal opinion about the matter. However, the conclusion should not be extended. It should also not include any new facts or ideas.
20 Tourism Essay Topics
You can still have doubts about what you can write about. That's why we've combined a list of 20 tourism essay topics for you to consider. You can use the following topics for your inspiration:
The influence of Instagram on the tourism industry.
Entrepreneurship in the hospitality industry.
Social impact of tourism in Africa.
Advantages and disadvantages of ecotourism.
Negative environmental impact of tourism: the importance of sustainable tourism.
The economic impact of medical tourism.
Terrorism and how it affects tourism.
Wildlife activities in tourism and the most popular travel destinations.
Negative social impact of tourism.
Significant trends in tourism: how the pandemic has shaped the industry.
What is educational international tourism?
The economic impact of tourism in Africa.
The roots of ecotourism, its future, and trends of this type of tourism in the world.
The role of media in tourism as the mediator between the tourist sector and the population.
Food festivals and their impact on destination tourism.
The origins of religious tourism: the development of the pilgrimage.
The growth of the hospitality and tourism industry in the past decade.
Innovations in the field of tourism: new apps, technologies, and advancements.
Blockchain cases in the travel industry.
Musical tourism in Russia.
5 Tourism Essay Prompts
Besides, here you can check these tourism essay prompts to start writing right away:
Negative and positive impacts of dark tourism. First, students are invited to explain what dark tourism is. It is a modern phenomenon that has its bright and dark sides. Explain what the advantages and disadvantages of tourism are in particular.
Camping in the United States. Each year thousands of people travel to the US for camping. If you choose this topic, you can speak about the most popular parks and destinations for camping trips.
Effects of mass tourism on local communities. Sadly, mass tourism requires more extensive facilities and hotels. Speak about the impact of mass tourism on the local communities and ecosystems. Try to appeal to the emotions and feelings of the reader.
World Heritage and Tourism. Tourism is sometimes perceived as a threat to the world and cultural heritage. Large numbers of tourists can ruin conservation efforts. Nevertheless, governments can use tourism to balance and protect these sites. This research paper topic can provide a platform to discuss these critical issues.
That's all! Thank you for reading the article. Below, you'll find the tourism essay samples. They can help you start and finish your paper on the given or chosen topic.