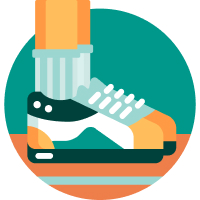 Free Athletes Essay Examples & Topics
Athletics is a variety of competitions in walking, running, throwing, and jumping. In the USA, it's also called track-and-field sports, or track and field, or simply track. These are all helpful definitions if you're assigned to write an essay on athletics.
Sport is a common topic for school or college papers. Besides, there is a variety of issues your instructor might ask you to focus on. You may have to explain why students become athletes, the benefits of exercising, how to balance sports and studies, etc.
Moreover, athletics essays often become a requirement for receiving a scholarship. One of the benefits of being a student-athlete is having an opportunity to receive tuition discounts or even study for free. Therefore, your scholarship essay should be impressive and flawless.
So, how to write a comprehensive athletics essay? Our experts have covered the basics in this article. We have prepared useful tips and a list of great essay topics.
Tips on Essays about Athletes
To write a perfect admission essay about athletics or any other academic paper on this subject, you should do two basic things. Firstly, follow the 5-paragraphs structure. Secondly, find solid evidence and examples for each of your arguments.
Your essay about athletes or sports should have the following structure:
Introduction.
Start your paper dynamically. Your introduction should be concise and very catchy so that it grabs the reader's attention immediately.
The most significant part here is your thesis statement. It should contain the message you are going to explore in the following paragraphs. Your thesis informs the readers about your key points and sets the direction of your essay. If you're having trouble developing one, our thesis generator can help.
Body paragraph 1 – your first argument.
Start the first body paragraph of your essay about athletics with the topic sentence. It should contain the argument that you're going to elaborate on. It should be directly connected to your thesis. Then, develop your idea.
Support your position with valid evidence. These can be facts, examples, quotes, etc. Before presenting any supportive details, make sure they are solid. Double-check the reliability of the resources you use for your paper. Sum up what you have said with one closing sentence.
Body paragraphs 2-3 – your second and third arguments, respectively.
The structure of your second and third body paragraphs are identical to the first one:
topic sentence;
argument;
evidence;
closing sentence.
Develop the second and third ideas linked to your thesis statement. Don't forget to make sure that your points are expressed logically.
Conclusion.
The final paragraph is your conclusion. Here, restate your thesis statement and sum up the entire essay. Ideally, you should synthesize your main points. You can try our text summarizer for that purpose.
Provide your readers with room for further discussion or investigation of a topic. Or just finish your paper with a final memorable thought.
Application Essay on Athletics
When it comes to an application essay on athletics, you should consider these tips:
Ask for all the necessary details. Make sure you know the formatting style, word limit, etc. Your college essay advisor will be ready to help you.
Present your story. Remember, you are more than an athlete. You are a person with a unique story behind you. Make your essay impressive and memorable by sharing your life experience.
Avoid cliches or generalities. The more specific and unexpected you are in a scholarship application – the higher the chances to win.
Don't include unnecessary information. The admissions are not interested in the rules of the game. They are looking for unique and attention-grabbing information in your essay.
Don't try to become a professional writer. The use of literary devices is acceptable, of course. Though, don't try to make your essay highly expressive. Better focus on your sports achievements, your source of inspiration and motivation rather than demonstrate your creative writing abilities.
Go beyond the frame. How about focusing not only on sports but on your background? Thell how athletics training helped you develop your personality. What is the value of sport in your life?
Be convincing. You should try to convey your feelings and emotions genuinely. Make admission officers touched by your story.
21 Athlete Essay Topics
Getting ready to write your essay on athletics but experiencing some problems with the topic selection? Try our title generator that will create one for you.
You can also look at our ideas:
The role of an athletic trainer in raising young sportspeople.
Should college athletes have benefits?
Injuries in sport: how to recover on a psychological level after a severe injury.
Are footballers overpaid?
Why being an athlete is important, and how to make children love sports.
The negative sides of being a professional athlete.
Professional sports at a young age: advantages and disadvantages.
The history of athletics: what was its role in Ancient Greece and Ancient Rome?
Do violent kinds of sports (boxing, judo, etc.) harm children's mental health?
Mixed (men + women) football teams: pros and cons.
What are the responsibilities of an athlete playing in the NBA?
The history of the Olympic Games.
Should children's trainers get paid more than adult trainers?
Drug testing should be mandatory in every sports competition regardless of its level and importance.
Prosthetics as a new way of engaging people with disabilities in sports activities.
The significance of losing with dignity in sports competitions.
Why is self-discipline essential for professional athletes?
How should student-athletes combine studies and professional sport?
The role of parents in raising professional athletes.
Cybersport: advantages and disadvantages.
Celebrity endorsement and sports: are products promoted by famous sportsmen more popular?
Thanks for reading our article! We hope our tips and athletics essay samples were helpful. Check the athletics essay examples below for more insights.