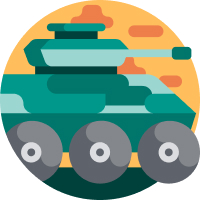 Free World War II Essay Examples & Topics
World War 2 is an international war from 1939 to 1945. The conflict involved the Axis alliance of Germany, Italy, and Japan against the Allied powers of France, Great Britain, the USA, the USSR, and China. WW2 remains the most significant conflict in history, with estimated 40,000,000–50,000,000 deaths.
Keep in mind that you should be politically correct and ethically proper while writing a World War 2 essay. Being one of the most crucial events in the world's history, it has caused controversial interpretations.
In this article, our team has prepared some tips for writing your World War 2 research paper or essay. You'll find great topics for practice or completing your assignment. Besides, there are World War 2 essay examples. They will be amazing for understanding the appropriate structure and argumentation.
To compose a paper about any war, you'll have to use common techniques. In essence, writing WWII essays is similar to describing other tragic historical events. You should elaborate on the assigned timeline, refer to trustworthy sources, and be careful in stating your points.
WW2 essay writing includes the following aspects:
Sources. There are two types of sources that you can use. Primary sources are the first-hand retelling of the event. It might be the newspapers, documents, etc. Secondary sources are based on the primary ones. It might be researches or books. Remember that the sources should be trustworthy.
Citations. Make sure to cite all your quotes, even the paraphrased ones. Provide the context to each one and try to summarize information from different sources. If you do a quotation, remember to mention it in the reference list.
Historical context. While writing a paper about real events, it is crucial to provide historical context. You need to analyze the evidence and study various sources. Express your own thoughts based on what you've learned.
Thesis statement. In one sentence, summarize the point of your paper. That's your thesis statement. It can be a question that you'll answer in your essay. Our thesis generator can help you create one for your paper.
Outline. Writing about a war, you should follow the standard academic structure. It includes an introduction with a hook, three body paragraphs with arguments and evidence, and a conclusion. In the body paragraphs, write topic sentences that support the thesis.
Title. Your WW2 essay title should summarize the main idea of your paper. Make sure to capitalize the words according to the required format.
25 Word War 2 Essay Topics
You'll have no trouble writing your WW2 essay if you use our tips. What you need to do now is to choose an idea to elaborate on. For that purpose, use our topic generator or check the list below.
There are 25 WW2 essay topics we can recommend to you:
Impact of World War 2 on the world's economy.
What were the reasons for World War 2?
What are the results of WW2?
The military training process in the Second World War.
Versailles Treaty and the way it affected Germany.
What role did WW2 play in aircraft development?
The role of African American soldiers in WW2.
The ways rationing affected people's lives during WW2.
WW2 sides and leaders, and their impact on world history.
The role of propaganda posters during WW2.
The way WW2 affected civil liberties.
How the creation of atomic bombs affected WW2.
The reason why WW2 caused Cold War.
What are the consequences of World War 2 for the USA?
Universal Declaration of Human Rights after WW2.
The reasons the USA entered WW2.
Causes and events that led to WW2.
What are the WW2 innovations that changed our lives?
What role did Penicillin play during WW2?
The WW2 impact on international alliances.
What was the women's role in World War 2?
Activities for teaching younger students about WW2.
How WW2 influenced art and culture.
Could WW2 have been avoided?
The ways WW2 impacted the railroads.
Thanks for reading, and good luck with your World War 2 essay! You'll find free samples below.