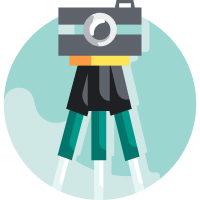 Free Documentaries Essay Examples & Topics
Watching documentaries is a great way to learn new things. These are films that shape and interpret facts for education and entertainment of their viewers. It has several social functions, which are to record, preserve, and reveal, and persuade. This form of motion films also aims to entertain and educate.
If you are struggling to write a good documentary essay, our experts have combined some helpful tips for you here. So, no need to worry.
First and foremost, you should find a topic. Focus on something you are genuinely passionate about. Think about the cause that matters to you: maybe it's climate change, slavery, environmental cause, ocean pollution, or perhaps it's something else. It is essential to find something that speaks to you. This way, you won't struggle with composing your paper.
You can also find a list of essay topics for your documentary research below, checking our samples. Yet, to pick the right idea, we first need to understand what film types are available.
There are several genres of documentaries:
Expository documentaries. Such films present objective information with a ubiquitous presence. The filmmaker usually does not appear on the screen.
Poetic documentaries. They rely heavily on images and music rather than narration. That is to say, there is little verbal communication with the audience.
Essayistic documentaries. These movies feature an essay-like narration. The filmmaker relies both on speech and on the images to make their point.
Observational documentaries. They try to demonstrate an objective record of some activity. It almost does not have music and narration and tries to present the event as-it-is.
Participatory documentaries. The films are the complete opposite of observational ones. The filmmaker is an active participant in the movie. They appear on the screen and communicate the subject.
Performance documentaries. These movies feature a dramatic performance. It can be a concert, a play, or another performance event recorded in the form of a documentary.
Interview films. These are the records of a conversation between two or more people. It relies on communication on-screen to deliver the message rather than on images and music.
Dramatization. This type recreates an event using actors to bring the viewer to the event. Some argue that it is not a form of documentary.
Mixed documentaries. The films use different modes and techniques. It can combine poetic, expository, interview modes at the same time.
Animation films. Such movies are standard, too, and their most distinctive feature is the use of animation to present the material.
As for your documentary essay assignment, you can be asked to work with any documentary. Let's figure out what tasks you will need to fulfill beforehand.
Movie Review vs. Movie Analysis
Not everyone understands the difference between a movie review and a movie analysis when watching movies and writing essays about the material. Sometimes these two terms are used interchangeably. Nevertheless, when it comes to grading and evaluating the paper, this difference is essential.
A film review essay is a "consumer-oriented" judgment that aims to recommend (or not) a movie. One can find documentary review essay examples in the newspapers, websites, or online databases.
An analysis of the film usually offers an interpretation and an evaluation of the movie. Some film theory is generally used as a framework to analyze and interpret the feature.
You can center your documentary essay assignment around not only a specific film but an entire genre of documentaries. You might be asked to write about a specific topic or an aspect of one movie in depth. Let's try to see how it works!
How to Write a Documentary Essay
When you are asked to write an essay about a documentary, there are expectations. You will need to analyze specific elements in one film or a few.
No matter what your assignment is, we are here to help you nail it! Here is a short guide on how to write a documentary essay:
Watch the documentary (and take notes). We highly recommended watching the film several times before you start writing anything. Throughout this process, you should take notes to recall essential elements later on. Schematically express your ideas and arguments.
Choose your perspective. You need to understand the approach you will be using. However, your position should be supported by the examples and ideas from the film. Search for what others think and say on a similar issue and compare it to your thoughts.
Pick what to discuss. After that, you need to start collecting the examples and ideas from the movie that support your viewpoint. All these elements should eventually connect to the main focus of your paper. You can try to do some additional research but do not forget to return to the movie continually.
Outline your essay. The outline will help you stay within the word limit. This way, you'll structure your thoughts and ideas on the paper before you start your essay. Plus, you will remain close to the intended format while writing.
Write it! Start with a brief introduction about the documentary and your thesis statement at the end of it. Then, evaluate the film, developing your arguments logically. In your conclusion, restate your position on the matter and list the critical points discussed.
Thank you for reading this article till the very end! We hope you found it helpful. Share this page with those who need our help. For your inspiration, you can check the list of documentary essay examples below.