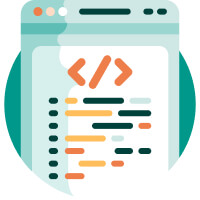 Programming Essay Examples and Topics
Are you assigned to write a coding or programming essay? But do you understand the difference between the two? Numerous people use these terms interchangeably. Here, our experts have explained what they mean and how they differ:
Coding is the act of translating from human language into machine one. It's like writing in the computer's language. Programming is a broader process in which coding plays a role as well. It concerns developing software by basically telling the computer how to complete a task. Besides, programming involves fixing related errors so that programs function as intended.
As an act of translation, coding does not involve using many software tools. A specialist can even use a text editor to write a code. On the contrary, programming consists in using special tools and appropriate devices. Coders should know proper syntax and keywords, while programmers have to learn a lot more information.
In the following sections, we have provided tips on how to write programming and coding essays, as well as appropriate topics. Additionally, under the article, you'll find free samples that you can look through.
Essay about Programming & Coding: Tips
An essay about programming or coding will have a standard 5-paragraph structure unless specifically required otherwise. In such a paper, you should present a thesis statement that reveals your message. Then, you should provide arguments and examples to explain your position. Here, we will gather tips that will help you in this endeavor.
To successfully write an essay on coding or programming, try the following:
Be aware of who you're writing for. Programming is a complex and specific subject. Thus, you need to understand both the topic and the audience. Include complex terminology for the pros or scale it down for the unprepared reader.
Don't limit your writing. Of course, you should try to stay focused on your topic. However, do not limit yourself if some technology or framework seems relevant to your essay. Include examples from other fields if they support your argumentation.
Always do your research. Your essay should have some theoretical framework at its base. So, conduct your research before writing. Strive to build up a robust academic foundation for your argument.
Structure your paper beforehand. Whatever topic you are writing about, you should organize your essay in advance. Prepare an outline or the bullet points of your ideas and references. Just make sure you think about the structure beforehand to simplify your writing process.
Work on your intro and thesis first. There is no single way to write your first paragraph. Some people prefer to live the actual text of the introduction when they already have the entire essay written. Whatever method you choose, remember to work on your thesis statement before anything else. Our online thesis generator can help you with that.
Make sure your body paragraphs serve their purpose. First of all, understand what the goal of your body paragraphs is. The primary purpose of the sections is to support your thesis statement. You can do that by providing information from different sources, illustrating your examples, and explaining ideas.
Conclude and restate. Restating your thesis statement in your conclusion is essential. Make sure you do not simply repeat but develop it based on previous paragraphs. Sum up what you've discussed in your essay. Your final goal here is to create a lasting image in the reader's memory.
Don't forget to proofread. You should reread and edit any paper before submitting it. You can carefully read it aloud and search for mistakes. Or you can ask someone to check your grammar, spelling, typos, etc.
17 Programming Essay Topics
You might be asked to write a coding or computer programming essay on a specific topic. However, sometimes you are free to choose the issue by yourself. You can let our topic generator create an idea for your paper. Or you can pick one from this list.
Check these coding and programming essay topics:
A comparative analysis of Java and C++ computer programming languages.
The use of python programming language in modern technologies.
Reasons why I have a passion for programming.
The pros and cons of computer-assisted coding.
Exploring computer coding as an art.
Teaching coding to kids through cartoons.
How is computer science used in television and film productions?
The benefits of using computer software in schools.
The best languages for competitive programming.
The importance of linear programming in real life.
The use of linear programming in transportation.
The application of programming in robotics.
Television programming and how it has changed in the last 20 years.
Teaching English as a foreign language using linguistic software.
A comparison between the human brain and a computer.
Will computers replace people at work in the future?
The development of web programming and design: why is it important?
Thank you for reading the article! We hope our tips helped you with your programming essay. We've included some examples for you to make our topics and tips more useful. See these free programming essays down below.