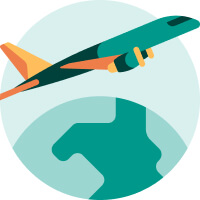 Free Aviation Essay Examples & Topics
Today air travel is the fastest and safest mode of transportation. With over one hundred thousand flights taking off and landing every day, it is a bustling and complex industry. If you find yourself having to write an aviation essay, you are in luck. There is plenty of ground for you to cover, from research and aircraft manufacturing to the airline industry.
There are many different types of aviation, but the three main areas of operation are commercial, general, and military. Commercial aviation is the one most familiar to us – airlines that we use when buying a ticket. Military operations involving aircraft training, exercising, and surveillance are referred to as military aviation. Finally, general aviation covers everything else within the field. Corporate or private airplanes, cargo transporters, news aircraft, and the like – all fall under this type.
Our team has prepared a list of topics for amazing essays on aviation that you will find below. We have also provided advice and tips on writing your paper. Under the article, you will discover some top-notch aviation essay samples for your consideration.
Aviation Essay Topics: 17 Great Ideas
Just like with any other academic work, writing an essay about aviation starts with choosing an appropriate topic. Here you can browse through our 17 ideas that can inspire your work. Or you can try our online topic generator that will create one for you.
Check out these aviation topics:
Aeronautical engineering in the military during World War II.
What are the standards of modern aviation safety?
The influence of economic factors on aviation legislation in the United States.
The environmental impact of the aviation industry.
The history of sustainable development in civil aviation.
Airline ticket prices and what factors affect them.
Aircraft noises: how does commercial airline staff handle unprecedented incidents?
Gender equality in aviation – the career challenges of being a female pilot.
Human errors in aviation accidents and how much they really contribute.
The impact of modern technological development on aviation security.
The risks behind unmanned aircraft technology.
Human factors in aviation maintenance of military aircraft.
Occupational health and safety procedures in commercial airlines.
Airports' response to the COVID-19 pandemic.
What management strategies allowed Qatar Airways to become one of the most expensive airlines in the world?
Innovations in aviation in the 21st century – where are we headed? What is the future of aviation?
The history of aerodynamics in aircraft research and development.
5 Tips on Essay about Aviation
Now that a topic has more or less formed in your mind, you can proceed to work. Similar to other academic achievers, aviation students have to work on their outline and thesis. You can read it intently in our guide on writing an essay.
Here we have collected some tips that will assist you in structuring and excelling at your aviation essay:
Title. This will be the first thing a person sees when reading through your essay. It is the first impression you make on your audience. Therefore, it must be clear and concise. Make sure that your title 100% reflects what you will be talking about in your essay.
Research. Once you have your title and topic ready, delve into research. Find reliable first-hand or second-hand sources. Make a note of each credible resource as you go along. If you're unsure about your topic, double-check it with your professor before diving deep into your research.
Thesis. This is the guiding principle of your essay. It must be structured as a single sentence that clearly states the central message of your paper. Reflect on the most significant points in your thesis. Check how our thesis generator formulates one to improve the result.
Outline. An outline for an essay typically consists of three parts:
Introduction. The first paragraph must gently inform your audience of what they are about to read. It should not contain too much information. Instead, fit a hook and a little bit of context. Focus on how to lead up to your thesis statement at the end of the introduction.
Body Paragraphs. All of the information that you collected during your research will go into the body of your essay. Each paragraph must focus on a unique issue. Your goal here is to smoothly lead up to the next point that you will discuss. Remember to substantiate your claims with evidence and references when appropriate.
Conclusion. Here you include the summary of your paper. You should explain how the content of your body paragraphs relates to your thesis. Do not introduce new information in your conclusion. Only summarize what was already said.
Writing & Polishing. When your outline is ready, you are all set to begin writing. Having your plan and research in front of you makes the process much smoother. Remember to proofread your work. All the best essays have been double-checked and edited before submission.
We hope that these tips and tricks managed to reignite your passion for aviation. Writing an academic paper is never an easy feat, but we are here to help. If you feel like you still require more insight, check out the aviation essay examples you can find below.
Thank you for reading!