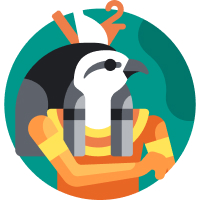 Free Mythology Essay Examples & Topics
A myth is a traditional story that attempts to explain a natural or social phenomenon. It usually combines historical events with fantasy. Such stories had appeared long before people learned to read and write; they passed from generation to generation through oral tradition. As a result, there is no single author of any myth, and there cannot be one.
An essay about mythology can reflect the reasons that brought ancient people to compose such stories. For this purpose, you should understand the natural phenomena, human relationships, and religious rites the myth describes. Your essay relies on analyzing the lessons people wanted to teach their descendants. That's why you should see the differences between the ancient and modern vision of reality.
To better understand what is expected from you writing a myth essay, you'll need topic ideas and some guidance. You will find both in this article, prepared by our experts. Below, you can also find some helpful myth essay examples.
Myths, Folklore, & Legends
It is better to know how myth differs from similar kinds of literary pieces. In this section, we'll focus on mythology, legends, and folklore. Note that they are hard to classify and frequently overlap in many aspects.
Myths:
Describe ancient times.
Regarded as sacred truth.
Perceived as facts.
Characters are supernatural forces and beings.
Legends:
Describe historical times.
Regarded as history.
Are partially factual.
Characters are historical figures described as heroes.
Folklore:
Never specifies the time.
Regarded as secular art.
Are devoid of facts.
Characters are fictional figures or animals.
Myth Essay & How to Write It
So how should you write an essay about mythology? We have prepared a step-by-step guide.
Following this plan will help you get the highest mark:
Select a topic or myth to write about. If your tutor hasn't limited you in the scope of questions to discuss in your writing, try to select a subject or angle of analysis that inspires you.
Investigate your material. Be sure to check if you can access sufficient materials on the topic you've selected. If not, move to the previous point. Take notes and use bookmarks with explanations. It will save you much time later. Also, make a summary of the most important passages.
Formulate your thesis statement. What would you like to tell the reader of your essay? Formulate the message of your writing. Explain what you want to convey in one concise and meaningful sentence.
Outline your paper. Envision it as a five-paragraph essay. It is often efficient to start from the main body that relies on your thesis, move to the introduction, and finalize the conclusion. List your arguments and one counterargument (if it is a persuasive essay). Think about which background information suits your introduction and which conclusion you will reach in the end.
Include the myths or historical facts. It is a mythology essay, remember? Make sure you've referenced the primary sources. Historical facts will add plausibility to your reasoning.
Write and edit. Follow your outline and correct it if necessary. Never grudge time for revising and editing as it can save your paper.
15 Myth Ideas for Essays
It is high time to decide what you will write about. The topics are not limited to ancient times if your assignment does not indicate the contrary. So, here you can find unique ideas for a myth essay from modern to personal mythology.
Our list is as follows:
Reasons why the Greeks imagined Zeus as an unfaithful husband.
Did myths transform into science or religion?
The story of Batman in The Dark Knight as a myth.
Compare and contrast Disney's Hercules vs. the myth versions.
What is a myth from the point of view of Indian mythology?
How does Norse mythology describe the world's creation, and what does it tell us about the Norse mentality?
Why do we no longer create myths, or do we just call them differently?
What is the central conflict in all Greek mythology?
Why was love so crucial in mythical gods' relationships, and what does it tell us about ancient people?
How did the Iroquois creation myth explain the appearance of the first people, and how different was it from the Christian tradition?
How does the myth of Gilgamesh explain the human perception of immortality?
What are the myths that we encounter in our daily lives, and why are they no longer considered sacred?
The sexism and the role of women in Greek mythology.
Why was warfare the essential part of Norse myths?
Can superhero movies be classified as myths, legends, or folklore?
We hope our advice and topics will bring you to an A+ essay. Below we have collected the best myth essay examples for your inspiration. Share the page with your peers who may need our tips.