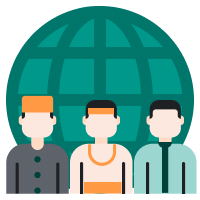 Free Cultural Issues Essay Examples & Topics
We often hear the word "culture" and take it for granted without understanding this complex phenomenon. It works until we face cultural issues. Indeed, every culture is unique to one degree or another. These differences can sometimes create tension and misunderstanding between social groups and individuals.
Cultures do not exist in a vacuum. They melt, mix, and interact with one another. When you are asked to write a cultural issues essay, you will have to explain their aspects and demonstrate why problems arose.
Our experts gathered tips and devices that you can use while writing your essay on cultures. Also, you will find examples and ideas for your assignment.
Let us start with some pieces of advice. To write a paper on cultural issues, you need to realize what you can describe in each type of essay. The content of your text will differ depending on its purpose.
The essay types you can encounter are as follows:
Descriptive Essay. This type is all about detail. Here, you can demonstrate all aspects and uniqueness of the culture you are writing about. The reason for giving a thorough description is to appeal to readers' emotions and values.
Expository Essay. This type does not involve the author's feelings about the subject. When writing such an essay, students have to rely on facts and scientific research.
Narrative Essay. In this type, you have to describe a culture through your personal experience and thoughts. See it as a way to tell your story. For instance, you've visited a country or a place, and you want to talk about it.
Persuasive Essay. Just as you can judge from the name, here, your goal is to persuade the reader to accept your point of view. These essays use both feelings and facts to appeal to readers' reasons and beliefs.
Cultural Issues Examples
There are numerous examples of cultural issues that you can write about in your next assignment. For instance:
In recent years, globalization has accelerated. As a result, the world becomes less diverse and more interconnected. This process has been happening for centuries. However, due to technological advancements, globalization puts pressure on culture more than ever before.
Language is a part of the culture as well as a tool of communication. Cultures are created through exchanging information. Meantime, they play a vital role in the way we communicate. In human connection and especially cross-cultural communication, culture should always be considered. It's essential to understand people around you in a workplace, institution, and any other public setting.
Cultures interact and overlap. They also very often conflict with one another. For instance, being straightforward is considered a norm in one culture. Meanwhile, staying diplomatic is valued in another. Seeing these differences is essential to create a meaningful dialogue between two cultures and people.
Culture is a generalized model of connection and perception. No wonder this model can contradict what a person thinks or feels. Understanding this paradox is important for people and those making decisions based on cultural norms.
The more powerful the members of the society are, the more ability they have to assign specific behavior within it. There is a distinction between high power distance societies and low power distance societies. In the former, classes have stable bases and access to resources. Meanwhile, in the latter, power is a force to dominate the minority groups.
Women and men play different roles in many societies. However, assigned gender roles are social constructs. In low-gender communities, women have fewer opportunities in work and education. In high gender cultures, everyone has similar education levels.
Culture is a mechanism to share communal experiences across generations. It's a force that aims to flatten and stabilize the world around us. Due to globalization and technological advancement, cultures have to adapt to changes constantly.
15 Cultural Issues Topics
Talking about cultural issues essay, we should mention the importance of choosing the right topic. When writing a paper, the first and foremost question you should ask is:
What should I write about?
You might be asked to compare one culture with another or describe an issue. You can also think about the problems connected to language and culture essays. If you are not sure what to elaborate on, you can let our topic generator create one for you.
Or pick an idea among these:
The place of culture in our life.
The importance of understanding cultural differences for successful political dialogue.
How does intercultural communication help solve global problems?
The role of social media in achieving cultural diversity.
Why is literature the highest form of language?
The way culture and traditions are reflected in national anthems.
Pop cultures that emerged because of mass media.
How does the Internet change culture and society?
What are the cultural problems in translation?
The impact of globalization on cultural awareness.
What are some of the examples of cultural rights?
How can social media destroy cultural identity?
What are the most common types of cultural issues to affect the labor market?
The intersection between cultural sensitivity and political correctness.
Evolution of cultural studies and multicultural psychology.
Thank you for reading till the very end! We hope our tips will be helpful. Plus, we recommend checking the cultural issues essay examples that you can find below.