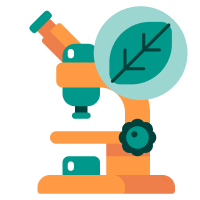 Free Biology Essay Examples & Topics
At one point in your academic career, you have to learn how to write an essay. It is an effective and fast way to evaluate students' ideas, understanding of the subject, and fluency of their scientific writing. Most instructors will use this method even if you study precise sciences such as physics, math, and biology. Here, we consider the latter in detail.
A biology essay, in a nutshell, is a type of academic paper that focuses on a particular topic of biology. It can discuss animal life, cycles in biology, or a botanic subject. Similarly to any academic essay, you are expected to demonstrate your critical thinking skills. You'll have to provide relevant evidence to support your perspective.
On this page, you will encounter biology essay examples. They can assist you in nailing down a similar school or college assignment. Yet, first of all, look at our tips prepared by our experts.
Areas of Research for Biology Essays
If you've been assigned to write a biology essay, you probably know which area of research you have to choose. However, it might be beneficial to explore other available scopes. It's useful for both interdisciplinary study and the cases when you are free to pick your area of research. In this section, let's figure out what you can study in biology.
Here are biological areas of research you should be familiar with:
Cancer Biology studies this type of disease to prevent, detect, diagnose and cure it. The ultimate goal of such biologists is to eliminate cancer.
Cell Biology is a branch that studies the structure, function, and behavior of cells. Here, biologists study healthy and sick cells to produce vaccines, medication, etc.
Biochemistry is an application of chemistry to the study of biological processes on cell and molecular levels. It is a cross-discipline between chemistry and biology. The focus is on the chemical processes of living organisms.
Computation Biology is a study of biological data that develops algorithms and models to understand biological systems. Here, scientists either work for institutions or research for private enterprises.
Genetics is an area that focuses on the study of genes and genetic variations for health benefits. It looks at the way DNA affects certain diseases.
Human Disease is an area within which scientists study different diseases. The field covers cancer, developmental disorders, disease genes, etc.
Immunology is a branch of biology that focuses on immunity. Immunologists look at the way the body responds to viruses as a way to protect the organism.
Microbiology studies all living organisms that are too small for our eye to see. It includes bacteria, viruses, fungi, and other microorganisms.
Neurobiology is the study of the nervous system. Biologists examine the way the brain works and look into brain illnesses.
Stem Cell and Developmental Biology seeks to examine how the processes behind stem cell's ability transform cells. The biologists in this area use the power of stem cells to model human illnesses.
Tips on Writing a Biology Essay
To write a good biology essay, first, you need to examine the topic well. Then, work out a structured outline to approach it. Sounds familiar? An essay about biology resembles any standard 5-paragraph paper. However, several aspects will be different.
When you're writing about biology, pay attention to the following features:
Introduction. Just as in any other form of academic writing, the first section of your paper introduces the subject. Here, explain why your ideas are relevant to biology as a science.
Thesis Statement. The final one or two sentences of the first paragraph should include your original hypothesis and experiment. You will be proving them in the main body. You do not have to include the results as the reader will encounter them later. If you're struggling with this part, try our thesis generator.
Main Body. In this part, write about all the experiments in detail. Often, teachers require to include visual aid to prove your point. For Zoology, Anatomy, Botany, it is pretty easy to find some photos and illustrations.
Conclusion. Here, restate your thesis. Reemphasize the most critical aspects described in the main body. You can do it by using our summarizing tool. The goal of this last paragraph is to leave an everlasting impression on the reader.
Thank you for reading our article. We hope you found it helpful. Share it with your class peers who also study biology. Additionally, have a look at the biological essay examples below.