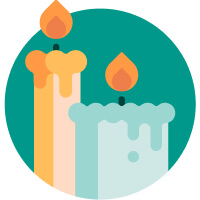 Free Religion, Culture & Society Essay Examples & Topics
According to Merriam-Webster dictionary, religion is an organized system of beliefs and rules used to worship a god or a group of gods. In comparison, culture is defined as the values, customs, arts of a particular society and group, place, or time.
As you can suspect, writing a religion and culture essay is truly exciting but not always easy. That's why our IvyPanda team is here to help you explore this subject. Let's start with the connection between the phenomena.
Culture and religion are interconnected, and some say that they are inseparable. This link is complicated, but our mind aims to simplify everything. For instance, can you be a Muslim yet belong to Western Culture? Can you be white and not be a Christian colonizer? Can you be an African and not be associated with African religions?
To accept that you can belong to the same culture but be different religiously is a problematic endeavor. One thing is clear: you cannot study one without studying another.
If you are working on a religion and culture essay, you have many approaches to explore. That is why it can be tricky to write about it. Whether you're composing a paper on Buddhism or an Islamophobia essay, outlines are a great way to realize what you want to do. Here, we have written a step-by-step guide on organizing your essay. We have also gathered topics and samples for your inspiration.
How to Outline a Religious and Cultural Values Essay
How are religion and culture connected? Essays like this aren't easy to plan, let alone write. Nevertheless, organizing beforehand lowers your workload. You can save a lot of time by writing your works with an outline.
Here, we have presented steps towards structuring your paper:
Create the right research question. A great question asks "how" and "why" instead of "what." It leads your research and the way you organize your paper. Your question can also be based on a puzzle or some form of contradiction.
Make a strong thesis statement. It is the core of your paper that sets your position – even your outline has to showcase it. Two levels of thesis exist. The first one is thesis-as-a-thoughtful-answer. The second level is thesis as exciting and original. Try to keep both of them in mind while creating your own. Our thesis generator can help you find the right words.
Begin your introduction. It should reveal the topic and how you intend to argue your position. First, hook your reader from the start and provide essential context. Then, give your reader an idea of where you are going with your essay by including your thesis.
Structure your body paragraphs. Here, you will state your points and why you find them compelling. Generally, it takes three paragraphs to do so. Include at least two arguments and one counterargument to add reliability to your statement. Make sure to list all the crucial points in your outline. You can add supporting evidence later.
State your conclusion. Here, you briefly summarize the arguments you've already provided. Additionally, you can include important implications and further research areas. In your outline, leave a place for a restatement of your thesis and a concluding sentence.
15 Stellar Religion and Culture Essay Topics
You can say a lot regarding religion and culture, and just an area of Christian festivals is abundant with topics. Yet, it is not easy to find a good idea for your essay, which is why we have tried to simplify your task.
Here are some religious and cultural values essay topics:
Explain the creation/evolution controversy and why both can be seen as a form of religion.
A critique of trinity doctrine in Christianity.
Positive effects of religion in coping with mental health problems.
The connection between mental health and prayers.
The role of religion in American society and culture.
Should American kids be taught Christian moral values in school?
What is the history behind Christmas? Why do Christians celebrate it on December 25th?
What are the Islamophobia causes and solutions?
What are some similarities and differences between Buddhism and Christianity?
What are the origins behind singing during Christian gatherings?
Compare the creation myths in the Bible and the Quran.
The roles and responsibilities of women in Hinduism.
Describe the five pillars of Islamic religion and their significance.
Why is Paul Tillich called the father of systematic theology?
What are the major religions around the world?
Thank you for reading our article till the end. For more ideas, you can try out our topic generator. Or you can simply look through our religion and culture essay examples below.