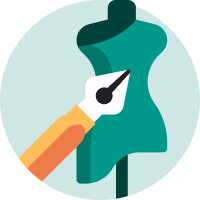 Free Fashion Essay Examples & Topics
The way a person presents says a lot about their character. And everyone has their style. However, not everyone is fashionable. Fashion is the popular and prevailing way of dressing, which often follows particular trends in a given era. Unlike style, it is characterized by change. Fashion follows cycles and constantly evolves together with society.
What is fashion, if not a form of art? Of course, it is a tool and a statement. But very often, fashion trends are reflective of their time. They are influenced by real-life events, politics, values, and socioeconomic changes. Fashion culture reveals human culture, and this is why it is so important.
If you require help writing a fashion essay, you've come to the right place. Our experts have prepared tips and tricks that will be useful in your academic paper. Below, you will also find fashion essay examples and topics.
Structure-wise, a fashion essay is no different from any other academic paper. However, some tips and tricks will make your job significantly easier.
Here are recommendations on how to improve your essay on fashion:
Pick an idea that is not too broad. It is best to avoid exploring general topics. A question like "Is it very important nowadays to be in trend?" is not specific enough for you to examine. If your title is too broad, then you won't be able to include details and specifics. The best topics are always narrowed down to allow room for insight.
Check whether you can research your topic. It is good to have a precise idea of what you want to write. However, make sure that you aren't backing yourself into a corner. If your topic turns out to be too narrow, you will not be able to do any research. This is why it is a good idea to check for credible sources while you are still researching.
Form arguments and find examples from the start. It is a good idea to start thinking of your thesis statement once you have settled on a topic. It is a central argument of your paper, and our thesis generator can formulate it for you. Of course, you will need to back it up with evidence. Collect your facts from the very beginning and keep everything organized for efficiency.
Outline your fashion essay. Just like always, you will need an introduction, a body, and a conclusion. Jot down topic sentences for each of your body paragraphs before you begin writing. Outlining your essay simplifies the process and makes your task easier.
Make sure that the content of your paper fits the topic. Now that you have everything that you need in front of you, it is time to revise. Fashion is a complex subject, and it is easy to get carried away. The most critical thing for you is to stay on topic and not drift off into irrelevant questions.
Double-check the instructions before you begin writing. It is a good idea to take another look at the assessment criteria. This will give you a general understanding of what is expected of you. If you feel like you are heading in the wrong direction, double-check your instructions.
Use a catchy title to capture the readers' attention. Since fashion is about expression, your essay has to live up to the standards. This will lend more credibility to your work. Show your passion by spending some extra time on your title to make it stand out.
Amazing Fashion Essay Topics
Are you writing a fashion trend essay? Or maybe you want to tackle early 2000s fashion? Or maybe, you still have no idea what you will be writing. In that case, here we have created an extensive list of fashion topics.
Otherwise, you can check the following ideas:
History of fashion in the 21st century.
Vogue: how fashion magazines influence trends.
What is fast fashion, and is it ethical?
Zara: a case study of fashion marketing.
Teenage fashion among students in Japan.
Fashion and design – a study of the fashion show runway.
Clothes and fashion on the red carpet of the Silver Age.
How do fashion designers predict the next big craze?
Why are unisex clothes prevalent in today's fashion?
The importance of sustainable fashion.
Present-day fashion in the workplace – what changed?
The evolution of the fashion industry in China.
Modern high fashion and gender.
The importance of fashion in my life.
Throwback to the 90s: the obsession with retro fashion today.
And that is all for now. We sincerely hope that you found our tips and topics useful! If you're looking for more ideas, you can always find more fashion essay examples below.
Thank you for reading!