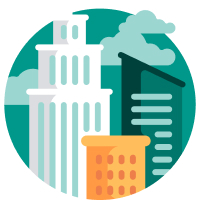 Free Architecture Essay Examples & Topics
Architecture essays can be challenging, especially if you are still a student and in the process of acquiring information. First of all, you are to choose the right topic – half of your success depends on it. Pick something that interests and excites you if possible. Second of all, structure your paper correctly. Start with an intro, develop a thesis, and outline your body paragraphs and conclusion. Write down all your ideas and thoughts in a logical order, excluding the least convincing ones.
In this article, we've combined some tips on how to deliver an excellent paper on the subject. Our team has compiled a list of topics and architecture essay examples you can use for inspiration or practice.
There are numerous types of architecture essays that you may encounter during your study years. Nonetheless, you can divide all of them into several main categories. In this section, we will explore them in regards to your architecture essay.
Throughout your academic life, you will encounter the following essay types:
This type uses arguments and facts to support a claim or answer a question. Its purpose is to lay out the information in front of the reader that supports the author's position. It does not rely on the personal experiences of the writer. For instance, in an argumentative essay about architecture, students can talk about the positive aspects of green construction. You can try to demonstrate with facts and statistics why this type of building is the ultimate future.
This essay requires an opinion or two on the topic. It may try to demonstrate two opposing views, presenting a list of arguments that support them. Remember that the examples that you use have to be relevant. It should be clear which opinion you support. Such an essay for the architecture topic can be a critique of architectural work.
This writing shares ideas and opinions as well as provides evidence. The skill that is tested in this essay is the expertise and knowledge of the subject. When you write an expository essay, your main goal is to deliver information. It would be best if you did not assume that your audience knows much about the subject matter. An expository essay about architecture can be dedicated to the importance of sustainable architecture.
Such essays do not provide any personal opinions about the topic. It aims to provide as much data as possible and educate the audience about the subject. An excellent example of an informative essay can be a "how-to essay." For instance, in architecture, you can try to explain how something functions or works.
It's an essay that aims to create a particular sentiment in the reader. You want to describe an object, idea, or event so that the reader gets a clear picture. There are several good ways to achieve it: using creative language, including major and minor details, etc. A descriptive essay about architecture can be focused on a building or part of a city. For instance, talk about a casino in Las Vegas.
Here, your goal is to write a story. This paper is about an experience described in a personal and creative way. Each narrative essay should have at least five elements: plot, character, setting, theme, and conflict. When it comes to the structure, it is similar to other essays. A narrative paper about architecture can talk about the day you have visited a monument or other site.
17 Architecture Essay Topics
In this section, we will give you some ideas that will help you write an interesting essay about architecture. You can use these topics for your assignment or use them as inspiration.
Here are our 17 architecture essay topics:
The most amazing architecture in the world and the most influential architects of the 21st century.
Some pros and cons of vertical housing: vertical landscape in the history of architecture.
A peculiar style of modern architecture in China.
The style of Frank Lloyd Wright and architecture in his life.
New tendencies in rural housing and architecture.
Ancient Roman architecture reimagined.
The role of architecture in pressing environmental problems in modern cities.
Islamic architecture: peculiar features of the style.
Earthquake-resistant infrastructure in building houses.
How precise is virtual planning?
Houses in rural areas and the cities. How similar are they?
A theory of deconstruction in postmodern architecture.
The influence of Greek architecture on modern architecture.
Aspects to consider when building houses for visually impaired people.
Disaster-free buildings: challenges and opportunities.
European architectural influence on the Islamic world.
The architecture of old Russian cities.
Thank you for reading the article. We've included a list of architecture essay examples further down. We also hope you found it helpful and valuable. Do not hesitate to share our article with your friends and peers.