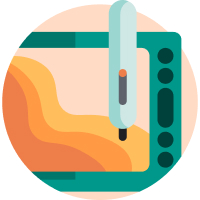 Free Visual Arts Essay Examples & Topics
Visual arts are the works of art we see with our eyes. It is a broad definition that includes a large number of disciplines and elements. From Wassily Kandinsky to Jackson Pollock, from sculptures and paintings to filmmaking and interior design – the term covers it all.
If you are writing an essay about visual arts, the chances are that you will find yourself a bit lost for words. After all, the subject matter may seem contradictory to the task at hand. However, there is no need to panic.
In this article, our experts have outlined the best way to write your very own visual arts essay step-by-step. You will see that your academic paper can be a work of art in itself. We have also included 19 outstanding visual arts essay topics from which you can choose.
Even a brief essay about visual arts can be overwhelming. It's usually the case when you don't know where to begin and how to organize your thoughts. That's why creating an outline is so crucial. In this section, we have listed what can help you in writing your visual arts essay.
Try following these steps:
Choose your topic. Of course, it's the most critical step for your paper. The idea you pick should be narrow enough for a detailed analysis. Yet, it should not prevent you from doing extensive research. Try browsing through visual arts essay collections. For example, check Bending Concepts by Walter Benn Michaels et al. There, you can get ideas on what to write about.
Finding relevant art. Unsurprisingly, essays on visual arts require you to interact with the artwork. To offer proper art critique, you might want to conduct a visual analysis of your subject. Besides, it is a great idea to look into art history surrounding your topic. Figure out the context of the work and incorporate it into your paper.
Brainstorming. Jotting down all your feelings and ideas can be an excellent exercise. Everything that you think on the topic may come in handy. So, write down your thoughts about the style and technique of the artist, what message the work is trying to send, etc. When you're done, make sure to look at your assessment criteria. Compare them to what you have thought of so far.
Grouping information. Here is where you might want to begin thinking of a thesis statement. Begin by grouping all the information you've gathered so far by themes. These will later become the foundation for the outline. Sort through all your findings and decide what ideas fit well with your topic. With this in mind, write down an excellent thesis by formulating your message in one sentence. Or our thesis generator can do that for you!
Writing the outline. Now that everything is organized, create a structure of your paper using your ideas and thesis. Begin by making an introduction to visual arts. Explain what you will be talking about in your essay. Your research and formal analysis go into the main body. Finally, your final reflection about visual arts should be left for the conclusion. This is where you get to sum up your interpretation of the work and what you see in it.
Browse through samples. Before you begin your essay writing, you might want to spend some time looking at examples. This can give you further ideas for your outline. Besides, good samples can inspire writing your very own visual arts essay. After all, art appreciation isn't easy!
Whether you are writing a brief response piece or an entire extended essay, following these steps will improve the quality of your work. With enough practice, you will be composing visual arts essays with your eyes closed.
Visual Art Essay Topic
Still uncertain whether to write about Pablo Picasso or The Color Theory? Take a quick look at this list! Or allow our title generator to create an idea for you.
Here are 19 visual arts essay topics we have compiled just for you:
From painting to filmmaking: a brief history.
Leonardo da Vinci and the Golden Ratio.
Baya Mahieddine – the girl that inspired Picasso.
What do we mean by 'contemporary art'?
Victorian beauty standards and their depiction in art.
How World War I gave birth to Dadaism.
The symbolism in Frida Kahlo's paintings.
Cave paintings as very first artworks.
What is the difference between art and design?
Bollywood: how cinema evolved in India.
How the Edo period in Japan defined its arts and culture.
Salvador Dali's influence on the surrealist movement.
Perpetuation of stereotypes in modern art.
Women in art: why are female artists often overlooked or forgotten.
Is graffiti a legitimate form of art?
The history and evolution of graphic novels.
Greek and Roman sculptures: similarities and differences.
Iconoclasm during the French revolution and its impact on art.
The evolution of Islamic Arts.
Thank you for reading! We hope that you will find inspiration among these visual arts topic ideas. Check out our visual arts essay examples that you will find below.