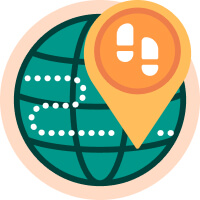 Free Immigration Essay Examples & Topics
Immigration is a process that involves a temporary or permanent relocation of people from one country to another. It may occur due to various reasons: economic, political, cultural, social, etc.
A person who lives in a country other than that of their birth is called an immigrant. The only way to mitigate that status is to apply for and pass the citizenship test. Then, the person becomes naturalized.
Immigration is quite a complex issue. It has both positive and negative influences on societies and countries. For example, it affects international economics, national security, demographics, culture, and even religion. Thus, immigration is a phenomenon that offers a lot of aspects to explore.
You can write a paper on immigration for sociology, international relations, and many other subjects. Our IvyPanda team has prepared this article to help you find the right approach to this phenomenon. Also, you'll find 13 topics and excellent immigration essay examples for you.
Immigration Essay: What Paper Type to Choose
Before writing a paper, you have to decide on its type if it wasn't assigned. There are a lot of them, of course. Yet, not many are suitable for an immigration essay. Writing a narrative paper, for example, will be extremely difficult if you haven't had a similar experience. Moreover, teachers usually expect research and analysis of existing facts and statistics. Thus, certain essay types are more suitable for your work than others.
Let's see what essay types are suitable for papers on immigration:
A persuasive essay aims to convince its readers to accept the writer's idea. For that, the author needs to collect strong arguments and reliable facts. The discourse surrounding immigration has been rampant in the past couple of decades. Therefore, it will be crucial to double-check the validity of the collected data. The goal is then to present that data to the audience so that they believe your position is the correct one. The key is to appeal to the sentiments of your readers and evoke an emotional response.
The key aim of a cause-and-effect essay is to explore the relationship between two aspects. In other words, the writer is supposed to show how one event, person, or idea influences another. For this type of essay, you can show how immigration is correlated with other systems in a given country. Provide logical connections to the readers and explain your findings.
It is crucial to distinguish this type of essay from a persuasive one. In both, you should present various arguments to convince your readers of your thesis statement. However, an argumentative approach does not appeal to the readers' emotions. This is usually a five-paragraph essay with an introduction, a thesis statement, a body, and a conclusion. The largest part should consist of three paragraphs. They should include two supporting arguments and a counterargument. An argumentative essay works well with an issue such as immigration since you have to consider different points of view.
An expository essay is the most basic type of paper. Its purpose is to define the concept or explain the idea. If you want to remain neutral when exploring the issues of immigration, this is your best approach. The most significant aspect of an expository essay is clarification. Make sure that you explain your ideas as precisely as possible, so the readers can easily understand your thoughts.
Read immigration essays samples under the article as well. This way, you'll see what formats other students prefer to choose for their assignments.
13 Immigration Essay Topics
As you can tell, the subject of immigration is very broad. Thus, it might be pretty challenging to develop a specific idea for an essay. There are several options for solving this problem. You can search for immigrant essay examples and topics online. Or you can try out our title generator that can automatically create a new idea for you.
Besides, you can check this list of topics:
How does Amnesty International fight for the human rights of international migrants?
The key causes and effects of illegal migration in Europe.
The role of border patrol in catching undocumented workers and preventing them from illegal actions.
Do second-generation immigrants have the same rights as native Americans?
What benefits do immigrant scholarships provide for international migrants in the USA?
Should the government give citizenship to immigrant children?
Poverty as the main cause of migration from third-world countries.
Immigration reform and control act of 1986: causes and effects for the USA.
Life of an immigrant. What are the most common obstacles migrants are facing? What are the possible ways to overcome them?
Human migration should be under the strict control of international affairs.
What effects does global migration have on international political and economic performance?
Immigration in America nowadays. What are the advantages and disadvantages of accepting migrants for the United States?
What problems might the immigrants have while assimilating with the unknown culture?
For even more ideas, you can these immigration essay topics.
Thanks for your attention! We hope this article will help you in writing your paper. And don't forget about our immigrant experience essay examples below. You can find a lot of insights in them.