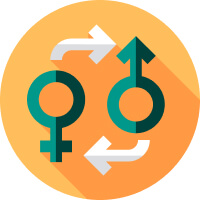 Free Gender Identity Essay Examples & Topics
Everyone has their own unique gender identity. Whether a person identifies as female, male, or outside the binary, everyone has ways of expressing themselves. This gender expression is then measured against socially established gender roles. If the two concepts clash, this can become a source of internal and external conflict.
In recent years, the definition of gender is beginning to change. We now consider it as a social construct. It is dictated by our behavior, presentation, and cultural norms. The language surrounding this concept is also evolving. Here our experts have explored some terms that will help you understand gender identity.
Cisgender applies to a person whose identity aligns with the sex that they were assigned at birth. In contrast, transgender refers to a person whose gender identity differs from their assigned sex.
Non-binary describes people whose gender identity lies outside the established man/woman dichotomy. This umbrella term covers a broad number of identities, such as genderfluid, genderqueer, agender, etc.
We have collected advice that will help you in writing your gender identity essay. After all, even when writing about a personal experience, you need to approach the subject thoughtfully. We have also created a list of topics. They will help you compose different types of essays about gender identity.
Essay about Gender Identity: 6 Tips
Doesn't matter whether you are writing a gender expression essay or a paper about identity. You still have to follow a defined structure. Here we have summarized how to organize your work process best and create an effective outline.
You can start with the following tips:
1. Brainstorm. The most critical step in writing a successful essay is to establish what ideas you already have. Perhaps you are thinking about focusing on gender equality? Or maybe about the differences between masculinity and femininity? Jot down your thoughts on paper and see where that takes you.
2. Get a topic. As soon as you have an idea of the direction you're heading, start thinking about wording. Keep in mind that you have to narrow down from a broad list of potential subjects. The matter of gender identity is infinitely complex, so choose a single aspect to focus on. Try our topic generator so that it can come up with an idea for you.
3. Research your idea. This is perhaps the step that will take you the longest. To successfully write a compelling essay, you should have a large number of credible sources. Most of the information you need will be available online. Yet, try referring to books and journal articles too. Check for the availability of your resources before you settle on a topic.
4. Come up with a thesis. Here is where you might want to look over all the information you have compiled so far. Refer to your chosen topic and create a thesis statement. It is the main argument that you are trying to make in your essay. So, be concise and precise.
5. Outline your paper. From writing down the title to forming your conclusions, everything in your essay should be pre-planned. Start with writing down your introduction using your thesis statement. Afterward, you may want to note down what you will talk about in the body paragraphs. Don't forget that using statistics, examples, and quotes can make your essay sound more solid. Finally, summarize your findings and restate your thesis in your conclusion. For this, you can use our online summarizer. Now that you have a rough draft, writing will be much easier.
6. Revise & proofread. When you are done writing, it is time for editing. Many students choose to skip over revising and proofreading, believing that it is not necessary. This is not the case. Your true potential opens up only after you edit your paper and compare it to the writing criteria. Make sure to read through your work at least once.
Amazing Gender Identity Essay Topics
After reading our tips, you may still have a vital question. What should be the topic of my essay on gender identity? We are here to help.
Feel free to make use of these 15 gender identity topics:
What is gender expression, and how does it feed into gender stereotypes?
The intersection between race and gender identity.
Why are feminine traits frowned upon while masculine ones are uplifted?
Gender identity in society today.
The history of nonbinary gender identities in the West.
Gender identity development – a psychological study.
The third gender – a study of nonbinary gender identities of the past.
Presentation of gender identity in modern media.
What is gender performativity, and how does it help shape gender identities?
The contrast between gender identity and gender role.
Gender as a spectrum: what lies between masculinity and femininity.
Dysphoria – a gender identity disorder.
Breaking down the concept of heteronormativity concerning gender.
The historical evolution of the female gender identity.
Understanding equality in terms of gender identity.
Thank you for reading! We hope that you found these tips useful, and we wish you the best in your academic work. If you still find yourself at a loss, read through our sample essays on gender identity below.