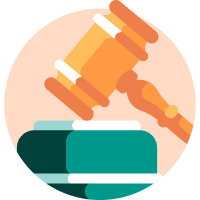 Free International Law Essay Examples & Topics
International law (same as public international law) is the set of legal rules, standards, principles, and norms between sovereign states and other international legal actors. These rules are recognized by most states and can be applied to govern the relationships between them.
Our team has worked out a list of topics for your international law essay that can help you write your paper. We've explored why it's worth your time to study it as well. Thus, first of all, we invite you to understand what international law is.
So, why study it?
As we've mentioned above, international law is a set of norms and treaties that govern relationships between states and legal players. Its primary purpose is maintaining peace and justice. That's when the importance of international law becomes clear. Without it, countries would not be able to solve issues in an organized manner.
Another critical role of international law is promoting business-related and industrial development worldwide. International law and its principles view economic growth as a global public responsibility. Trading, negotiating, producing, and investing worldwide is possible due to standard norms and shared regulations.
11 International Law Essay Topics
To be able to write an exceptional international law essay, you need an excellent paper idea. Here you will get some amazing topics! You can use these international law essay ideas for composing your paper or read them for inspiration.
Use the following ideas to practice or complete your assignment:
The evolution of antitrust laws in the UK.
Comparison of gun control laws in the US and Sweden.
Child labor in the global economy and laws against it.
Rules of private international law.
Conflicts of regulations in public international laws.
Why do nations have to obey modern international law?
New international commercial court drafting of laws.
Reasons why the former first lady of Ivory Coast is tried for crimes against humanity.
Palestinian territory occupied: possible ways to resolve the conflict.
"Access the Sea" case in Bolivia and Chile.
Influence of the United Nations on modern international law.
7 International Law Essay Questions
In this paragraph, we've combined a list of international law essay questions. They are useful for numerous reasons, some of which we've already explained above. The key aspect is that they can help you practice writing international public law essays.
Here are our seven international law assignment topics:
List the theories that explain the relationships between domestic and international law.
In this essay, a student is invited to explore the relationships between domestic and international laws. Indeed, these relationships are genuinely complex. While listing theories, try to answer the question about the position of domestic law within the international one.
Explain what is the role of international law in the modern world?
It's a great essay topic that gives a lot of space for students to develop ideas. Indeed, the role of international law in the modern world is hard to overestimate.
Analyze legal systems of Asia and Africa.
An analysis of these two legal systems can be a fascinating endeavor. Additionally, explain what the difference between "laws" and "legal systems" is.
Illustrate legal justifications for the use of force?
Here, we urge students to explain the legal thinking behind the implementation of force. Illustrate when and how legal entities can apply the laws on the use of power.
What do you think about Kosovo as a state?
It's a pretty personal question. However, be mindful of basing your response on the laws and principles of international law. A great topic that can capture the reader's attention if delivered correctly.
Show the importance of recognition within the international legal system.
Here you should demonstrate what importance acknowledgment plays in international law. Additionally, enumerate the conditions nations should fulfill to be recognized.
Discuss the extent to which international law protects the rights of minorities?
When answering this essay question, keep in mind how international law defines minorities and what it does to protect these groups. Explain who can claim minority rights.
Thank you so much for reading our article. We hope it can help you in your next international law assignment. Now you can check the free essays below to see how other students handled the task.