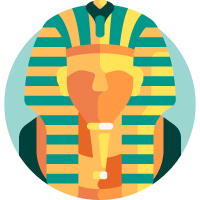 Free Ancient History Essay Examples & Topics
An ancient history essay is a type of assignment that requires students to analyze events, historical figures, and past societies. Based on this research, you will make a claim that should be supported with proof and historical evidence.
That is why our experts prepared a list of tips and advice on how to succeed in writing your following paper in ancient history. At the end of the article, you will also be able to find free samples. Besides, here you'll have access to ancient history topics that can be useful for practicing or coming up with your ideas.
Any ancient history essay should be based on factual proof and solid arguments regardless of the period it focuses on. A legitimate question might arise: where do I get the evidence? For that, you need to understand where to find information. For most of your papers, the use of primary and secondary sources is a requirement.
Let's figure out the difference between the two:
Primary Sources are immediate first-hand accounts of a topic. Usually, people directly related to events write them. Primary sources include documents, laws, speeches, photographs, newspapers, and many more.
Secondary Sources are sources that quote primary sources. These resources focus on historical events as well. However, they add a level of interpretation and analysis. Secondary sources can include books, research papers, scholarly articles, documentaries.
A student who strives to produce a well-written ancient times essay should conduct historical analysis. However, what is it? It is a method of examining the evidence to understand the past.
While the past consists of all the events that happened, history is what we know about these events. We have to carefully examine who wrote the text or took the picture to avoid the "authority trap" confusion. One of the ways to do it is by applying the five "w"s:
Who?
Where?
When?
What?
Why?
History is not a straight line with only one perspective and one answer. Therefore, a good historian is not looking for the truth. They are looking at the forces that shaped history as we know it. Examining a wide range of sources will allow you to write a profound essay.
For a student to deliver a logical paper with solid argumentation, the research has to follow a specific structure:
First, you need to draft your thesis statement. Remember that it might change as you learn more and more about the topic. If you're unsure about your wording, you can use our thesis generator.
Then, you should look once again at your sources to decide which are relevant for your paper. For that, you can annotate them and write a short paragraph that summarizes the main idea of the source. When you come back to them later on, it will be less confusing.
In the end, provide your arguments with supporting evidence from the sources. Make sure the order in which you list them is logical.
Outlining your ancient history essay is the critical way to keep it clear and straight to the point. The elements that you should include are as follows:
The research question from the prompt or developed by you.
Your thesis statement.
The main idea of the paragraphs.
The evidence that you will use in every paragraph.
16 Ancient History Essay Topics
To simplify your work, we've gathered a list of ancient history topics to write about. Here are issues you can use for practice or draw inspiration for your next assignment.
Try the following ideas:
What caused the fall of the Roman empire?
The construction of the Great Pyramids in Ancient Egypt.
A study of Gods and religious beliefs in Ancient Greece.
The governmental structure and organization in Ancient Rome.
Julius Caesar's role in the expansion of the Roman Empire.
The structure of labor and slavery in Ancient Egypt.
The importance of the Pharaoh in the New Kingdom.
How did the Olympic Games become an international issue?
Odysseus as an epic hero in Trojan War.
Gods, Goddesses, and Deities of the city of Troy.
Ancient Egypt and Ancient Mesopotamia comparison.
The significance of sports in Ancient Greece.
An analysis of the reign of King Xerxes of Persia.
Roman citizenship and human rights in Ancient Rome.
Similarities between Mesoamerica and Mesopotamia.
The means of communication in Ancient times during the war.
Thank you for reading our article till the very end. We hope you found it useful for your research. You can now look at the ancient history essay examples below.