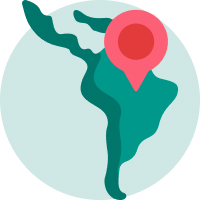 Free Latin America Essay Examples & Topics
Latin America is a group of countries from the South American continent. It includes Mexico, Central America, and the islands of the Caribbean, where they speak the Romance language.
Latin American presents a mixture of many cultures. African, Indigenous, and European cultures had the most impact on it. One of the examples of this mixture might be the Mexican folk music "Son."
In this article, you'll see methods and advice for writing a Latin America essay. You will find them helpful for creating any project related to the culture and history. Plus, our experts have composed Latin America essay topics that you can use for practice.
Latin America is diverse and fascinating to learn about. Writing an essay about it might be a pleasure, especially if you read our recommendations. They'll help you follow the academic structure and express your point correctly.
Here are our tips on composing an essay about Latin America:
Don't limit yourself. Latin America is diverse. So, try not to explore only one country in your paper. Latin America's history is broad too. That's why make sure to include different aspects and interesting facts.
Research various features. If you've decided to write about one country, cover different aspects of its structure, culture, etc. For example, political and economic organization. Or elaborate on traditional music and dance in one paper.
Start with the basics. Cover the geography, economics, or other basic information about the country or area in the introduction. The first paragraph should grab your readers' attention. Thus, provide some facts for their knowledge in an engaging way.
Work on your thesis. It summarizes the main point of your essay in one statement. The thesis is the last sentence in the introduction paragraph.
Structure your essay well. One paper covers one message that you state in your thesis. One paragraph covers one idea that you convey in the topic sentence. Body paragraphs provide arguments and supporting evidence.
Write your conclusion. Restate your thesis statement here and summarize your arguments. You can achieve this with our conclusion generator. Do not make mention any new points in this part.
Refer to trustworthy sources. It is crucial while writing about a country's history and culture. List them in the references, and don't forget to cite correctly.
Interesting Latin America Essay Topics
Now, you can proceed to write your essay using our advice. The only thing you are missing is a good topic idea. You can come up with one yourself, use our topic generator, or pick one from the list below.
So, here are 23 Latin America topics you can use for your essay:
Latin American authors and their impact on world culture.
Colonialism in Latin America and its effects.
How does globalization affect Latin America?
The significance of musical instruments of Latin America.
The reasons behind poverty in Latin America.
Does religion affect Latin America's culture?
Slavery abolishment in Latin America.
Did the American Revolution affect Latin American history?
How did nationalism impact Latin America?
Gender equality in Latin America.
Latin America in the Colonial Era.
Caribbean infrastructure and its types.
Why did the USA support Latin America's independence?
Hispanic culture, traditions, and customs.
The ways people deal with crime in Latin America.
The imperialism's impact on Latin America.
Democracy's success and failures in Latin America.
Catholic Church and Christianity in Brazil, Mexico, and Peru.
How Cold War influenced Latin America.
Is the Latin American market big?
Catholics and Protestants in Latin America.
COVID-19 impact on central banks in Latin America.
Latin American literature and its effect on world culture.
Thanks for reading! You can find free Latin America essay examples below. They are great for learning how to provide your argumentation.