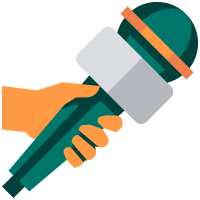 Free Journalism Essay Examples & Topics
A journalism essay is a type of paper that combines personal records and reportage. Besides news and facts, it should contain a story. An angle that creates a unique narrative to the events you are describing is crucial. But let's start with the definition.
No matter how often people hear about journalism, they still might get confused about what it is. In essence, it is an act of writing about news in digital and non-digital form and print and non-print. Journalists strive to present information in an interesting way while staying true to the source.
News can cover "hard stories" about world events and politics. There can be "softer stories" about celebrities, sports events, weather, etc. Journalism as a profession is incredibly multidimensional in nature. It can include writing, photography, interview, and more. Besides, content differs between particular types like literary journalism and yellow journalism.
In this article, we've combined tips about how to write a good journalism essay. Our experts gathered information that will be useful for starting research and completing it. Moreover, you will find journalism topic ideas at the end of the article.
How to Write a Journalistic Essay
In this section, you'll find tips that can help you start writing. However, nothing is more vital than choosing an appropriate journalism essay topic beforehand.
Before picking the subject, ask yourself several questions:
What themes do I want to explore?
What will my story be about?
What points do I want to make?
What is my attitude towards the topic?
Answering these questions can allow you to improve your storytelling. What's more, look for one that can allow you to write intimately. Personal touches and views will influence your paper immensely. With all that in mind, try our free topic generator to get more ideas.
To write an outstanding journalistic essay, you should try these tips:
Gather facts and references first.
Collect all the information you may need for your paper. For a story in journalism, you may be required to interview people or visit a location. Most importantly, you'll have to research online. Also, you can read stories written by other people on the Internet to gain a better perspective.
Organize your ideas and arguments before writing.
A good story is always organized. The structure of a journalistic should represent an inverted pyramid. The most crucial facts appear on the top, less important details go further, and extra information stays on the bottom. You can reflect in your writing. Organize all your arguments before writing, sticking to a logical structure.
Rely on storytelling.
The story should become the main focus of your work. The writing should serve it and grab the reader's attention from the start. Think about storytelling techniques that can keep your reader interested till the very end.
Work on your style and language.
Another essential technique to keep your work both logical and engaging is to write in short sentences. If you search for any journalistic writing examples, you'll see that's how journalists write. The main goal of your paper is to deliver a clear and strong message. So, working on your style is going to help you further this agenda.
21 Journalism Essay Topics
There are so many journalism topics you can write about, and it can sometimes be challenging to stick to one. If you are still unsure what to describe and explore in your paper, this section can help you make this choice.
Here are some original journalism topic ideas:
The way race impacts the news in different states in the US.
Super Bowl as a phenomenon is more important than the game.
Why people refuse to believe in climate change.
How have sports changed international politics?
Is creative writing in high school an essential subject?
How vital is transparency in broadcast journalism?
Is media responsible for the Covid-19 crisis in the US?
Journalism as a profession can help change the world.
A privacy issue between British journalism and the royal family.
Are social media and blogging the future of journalism?
The role of religion and race in Hollywood.
Why has the Chinese economy risen so much over the past decade?
How can media help in battling poverty in developing countries?
Can music be used as political propaganda?
Connections between social media and depression.
Should mobile phones be allowed in educational institutions?
Has the Internet impacted the way how newspapers and articles are written?
Should fake news be banned on social media?
What are the biggest challenges of investigative journalism?
Can reality television be viewed as a type of journalism?
How can athletes impact social awareness?
Thank you for reading the article! We hope you will find it helpful. Do not hesitate to share this article or a list of journalism essay examples with others. Good luck with your assignment!