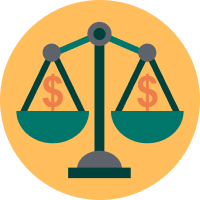 Free Business & Corporate Law Essay Examples & Topics
Business law is a branch of law governing commercial relationships and dealings between people and legal entities. Studying it, you're likely to write a paper on the related topic at some point. With this article, we're striving to help you excel at your corporate & business law essay.
For starters, there are different types of business law. The first one is employment laws that deal with employee and employer relationships. Then, there are business formation and structures. They concern tax and federal laws, registration of intellectual property, etc. The last type is contract laws that govern business deals, sales, transactions, and employees' non-disclosure agreements. One can say that contracts are the most critical area of business law.
In this article, you'll find business law essay examples that will help you to nail this complicated assignment. Our experts have also combined tips on how to start such a paper. Additionally, we've included a list of business law essay topics so you can start right away.
How to Start a Business Law Essay
Now that you know the main aspects of business law, you can start drafting your essay. In this section, let's consider what prewriting steps you should take.
Before composing your business & company law essay, try doing the following:
– Scrutinize your assignment. It's one of the steps that some students fail to accomplish. You can lose valuable points if you don't read the instructions carefully. Take notice of what structure you're asked to follow. See the required formatting style and how many sources you should provide in the reference list.
– Find or come up with an appropriate topic. There are many topics you can choose from, and this article can help you find one. Strive to write about an idea that sparkles interest in you. This way, researching it and composing your paper will be engaging. Besides, look for something easy to find information about and explore by yourself.
– Research it thoroughly. Before starting your essay, you need to find and document your sources. Seek appropriate journals and recent publications from specialists in business law. Once you selected your heads, you need to take notes. Decide what you're going to quote or paraphrase in your paper. To use an article as your evidence, you can use our online summarizer to cut it down.
– Outline your essay. First, come up with a thesis statement where you convey the central message. Then, based on your notes, organize arguments and evidence for your business & corporate law essay. A system helps you keep an exemplary structure and fit all your ideas properly.
24 Corporate & Business Law Essay Topics
With the tips above, you're almost ready to start writing. The only thing you need is a good topic. In this list, you will find ideas that can help you write your business law essay. Besides, you can try our title generator that will create one for you.
Check the following topics for business & corporate law essays:
Age discrimination in the workplace.
NDAs and how to protect businesses.
Affirmative action programs at work.
Whistleblower laws and how it affects some cases.
Why is business law important for countries?
The 4 P's of corporate governance.
The benefits of international business laws.
Challenges in international business transactions.
Advantages of separate legal entities.
Negotiable instruments in business law.
Minority shareholders protection laws.
The importance of the business ethics code.
Analysis of the corporate veil's lifting.
Criminal law in a business context and cases.
The essential principles of corporate law in Delaware.
Controversial corporate Supreme Court decision: examples and analysis.
Business laws and a peaceful workplace environment.
A corporate counsel: roles, liabilities, requirements, and duties.
The part of business law for students.
The role and functions of a lawyer in the business.
The different types of international business law.
Discussing contract elements and their role.
Analysis of the structure of transactions under international business law.
What is the significance of online privacy policies for the contract law?
Thank you for reading the article! We hope you found it helpful. Now you can check the examples of business law essays below.