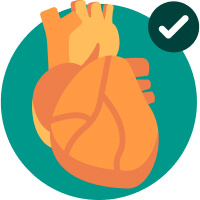 Free Cardiology Essay Examples & Topics
Cardiology is a tricky subject. Now every student will have ever to write essays about it. However, if you fall under the category, we have several tips and ideas for your benefit. First of all, let's start with identifying terminology:
Cardiology is a branch of medicine, which examines disorders of the heart. A cardiologist does not perform surgeries. Yet, the training to become one involves ten years of studying.
The cardiovascular system consists of the heart, blood vessels, and blood. Its essential function is to provide all parts of the body with nutrients and oxygen. There is also a circulation system comprised of arteries and veins.
In this article, our experts gathered cardiology essay topics that will help you with your work. We also explained how to write a personal statement and why it is needed. Additionally, you will find cardiology essays under the article. You can use them to discover how to organize your arguments or incorporate examples in the text.
Tips on Cardiology Fellowship Personal Statement
To become a good cardiologist, you need to understand the theory behind what you learn. For that, you need to write cardiology essays and research papers. It will prepare you to compose your statement for the cardiology fellowship. It is where you learn about the wide range of coronary and valvular heart diseases.
To get into a cardiology residency program, you need to write a personal statement. Below, you will find tips on composing one. They will also be helpful if you're working on an essay about cardiology.
Here are some tips on writing a personality statement:
Write clearly. To do that, choose everyday words. Don't choose adverbs and adjectives when you are trying to express yourself.
Avoid including cliches in your statement. The selection committee wants to find out your ideas – not about others. It is advisable to use your own words because it will help you to stand out.
Your theme should guide your statement. This approach will help you write a well-structured story. As a result, it will not deviate from the primary purpose and claim. Sometimes even great ideas can be poorly delivered if there is a lack of structure.
Proofread. Your statement should not have any typos and mistakes. Read it again and again to catch any possible spelling and punctuation mistakes. You could also ask your peers to read and review your statement.
Use samples. In case of writer's block, check some examples on the Internet. You can read them for inspiration or find some tricks that their authors used.
Emphasize academic interests. It is excellent to enumerate your hobbies and interests. Yet, do not forget to focus on your academic interests. After all, the selection committee will choose based on them.
Maintain a balance between professional and personal. Even though it is essential to be professional, you need to include some interesting personal details. It will assist you in standing out among other candidates.
If you need essay examples on cardiology, go to the end of the article. To skim through them faster, you can use our online summarizer.
11 Great Cardiology Essay Topics
Throughout your academic life, you will need to learn how to write not only personal statements but other works too. It can be a cardiac health care essay or a research paper on some topic in this field. Whatever you need, our ideas will help you. You can look them up in our list below or use our topic generator.
Here are some original cardiology essay examples to use:
The effects of cardiac rehabilitation on cardiovascular disease.
How does COVID-19 influence the cardiovascular system?
The impact of lifestyle on the cardiovascular system.
Heart diseases: symptoms, treatments, and effects on the population.
The history of invasive and interventional cardiology that changed the medical field.
The main dilemmas in clinical cardiology.
Myocardial infarction pathophysiology, studies, and treatments.
The causes and effects of diabetes mellitus.
Risk assessment in cardiac disease cases.
How to prevent cardiovascular diseases with exercising.
The types of heart problems that can kill young people.
Thank you so much for being so attentive! You can find cardiology essay examples below. Check them out to draw ideas and inspiration.